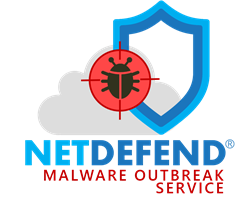 We are proud to have developed a rapid response approach aimed at helping mid-market clients deal with security breaches through our Malware Outbreak Service.
St. Louis, MO (PRWEB) March 15, 2017
Netelligent Corporation, a leading technology solutions provider, announced today a new addition to their managed security services portfolio, NetDefend® Malware Outbreak Service. As ransomware attacks continue be a growing problem, many businesses are unprepared, lack internal technical resources and opt to pay the ransomware. The Malware Outbreak Service stops breaches quickly and provides businesses with ongoing protection. Netelligent focuses on building the best security practice possible to assist customer from all mid-market industries, as ransomware knows no boundaries.
The NetDefend security portfolio continues to expand to meet midmarket security needs and includes security incident and event monitoring, vulnerability scanning, data encryption and advanced malware protection. Malware Outbreak Service reduces the remediation time of an attack at unprecedented speed.
"To help our clients address this challenge we launched our NetDefend managed security suite in 2016, and it has been well received by our clients as a great way to help prevent these types of issues," Aaron Stone, CEO/President shares. "And we learned that they also needed help in responding to the attacks when they occur prior to the NetDefend prevention mechanisms being deployed, and that is why I am very happy to see the launch of our Malware Outbreak Service offering that now combines industry leading prevention mechanisms along with incident response services to help our clients respond to an attack and then rest easy knowing the ongoing prevention tools have been put in place."
"We are proud to have developed a rapid response approach aimed at helping mid-market clients deal with security breaches through our Malware Outbreak Service," said Bob Hollander, vice president of sales and marketing at Netelligent. "There's no doubt, with an estimated 390,000 new malicious programs being encountered every day, cybercrime represents the top threat to IT operations and business in general. Time and again, we are finding midsize and large enterprises can benefit from a collaborative approach to addressing malware that involves combining expertise, leveraging the latest tools and following best practices for remediation."
"By partnering with Netelligent, customers benefit from the fastest response time to stop, investigate, contain, remove and prevent ongoing attacks," Kevin Van Mondfrans, Director, Product Management at Netelligent explains. "We address the outrageous cost concerns with a lower engagement fee and we do not charge escalating hourly fees. In addition, we leave behind ongoing protection and support for future incidents."
Bottom line, Netelligent stops breaches quickly and provides ongoing protection.
ABOUT NETELLIGENT: Netelligent Corporation is a technology solutions company. Netelligent provides companies with the basic technologies they need to run their business (phone system, servers/virtualization, disaster recovery, security, networking, and video). Our mission is to help elevate business above technology. We take a neutral approach in helping to determine what IT consumption model best benefits each client's organization (on-premises, managed, or cloud). Founded in 2003, Netelligent is headquartered in Chesterfield, Missouri and operates two data centers located in Colorado and Missouri. Netelligent is a Cisco Gold Partner and SOC II Certified. Additional information about Netelligent can be found at http://www.netelligent.com.