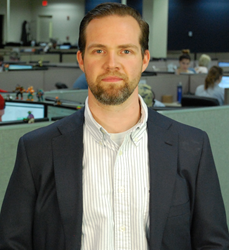 "I am incredibly honored to be recognized alongside so many talented and inspiring industry leaders," said Fenn.
Cleveland, Ohio (PRWEB) March 17, 2017
John Fenn, co-founder of Budget Dumpster, one of the leading and fastest growing waste companies in the U.S., has been named to Waste360's 2017 40 Under 40 list. The award showcases the next generation of innovative leaders shaping the future of the waste and recycling industry.
"I am incredibly honored to be recognized alongside so many talented and inspiring industry leaders," said Fenn. "But I don't win this award without the greater team, who works tirelessly to innovate and achieve more within the industry. This award is a great acknowledgement of our combined efforts."
Fenn and co-founder Mark Campbell founded Budget Dumpster in 2009 to disrupt a waste industry niche – temporary roll-off dumpsters – that was ripe for innovation. Since 2009, the company has seen annual double-digit revenue growth, including 35 percent growth in 2016.
The Waste360 40 Under 40 award recognizes inspiring and innovative professionals under the age of 40 whose work in waste, recycling and organics has made a significant contribution to the industry. The winners are involved in many different aspects including hauling, composting, policymaking and municipal initiatives.
A panel of expert judges from Waste360 evaluated the nominations and consulted with an external advisor to select the finalists and winners.
Fenn will be formally recognized at WasteExpo, North America's largest solid waste, recycling and organics industry event, May 8-11, 2017, in New Orleans.
About Budget Dumpster, LLC
Established in 2009, Budget Dumpster delivers affordable waste removal services in most major markets throughout the United States. Working with over 250 local partners, Budget Dumpster sells thousands of temporary roll-off dumpsters each week for projects big and small.
Based in suburban Cleveland with a growing team of over 70 employees, Budget Dumpster has been recognized as one of America's fastest growing companies by the Inc. 500 (No. 873 in 2016), one of the top five fastest growing companies in Northeast Ohio by Crain's (2015, 2016), one of the largest waste and recycling firms in North America (No. 67 in 2016) and one of Fortune's Most Flexible Workplaces (2016). Learn more about how we help people and companies each day at http://www.budgetdumpster.com.