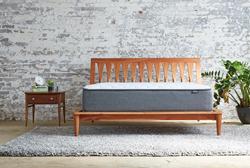 We started Aviya with one goal – Provide customers a real mattress, not just some piece of foam that's folded and compressed into a small box.
Cleveland, Ohio (PRWEB) March 17, 2017
Aviya Mattress announces new leadership in Chief Marketing Officer, Justin Smith, and new Chief Financial Officer, Nick Nolan. Both assumed their leadership position in December of 2016. When Aviya Mattress started in 2015, the goal was simple: Create a quality, hybrid innerspring mattress that was available online only at an affordable price. However, the challenge became figuring out how to deliver a real mattress with real springs to customers that were accustomed to purchasing in stores and salesrooms. The other challenge? Build an online mattress company without millions in venture capital or investments. Aviya Mattress started with nothing more than a mattress and an eCommerce website. With Smith and Nolan on board, Aviya Mattress has achieved revenues over six figures per month and has grown sales by over 400%.
The idea of selling a mattress only online is not what makes Aviya revolutionary. The online mattress market has quickly become saturated, featuring numerous all-foam mattress that are packed into easier-to-ship boxes. However, Aviya held firm in the belief that in order to create a luxury mattress that would stand the test of time, the mattress needs to have aboth high quality foams and an innerspring system. "A foam mattress is only half of a mattress, and that is why the design of an Aviya pairs high quality foams with wrapped coils. You need both to offer the comfort and support expected in a luxury mattress," said Smith. The secret behind an Aviya mattress is the use of high density, upholstery grade foams with a wrapped coil, innerspring system. "There is no one making a luxury mattress with the craftsmanship and quality of materials in the Aviya at the same price point," said Nolan. All Aviya mattress are made and shipped from Cleveland, Ohio. "We are proud to be Made in the USA. All of our mattresses are made in our facilities in Ohio and we source materials from US companies," said Nolan. By taking the online-only approach in selling direct to consumer through their website, http://www.aviyamattress.com, Aviya can save customers over 50% what a typical high-quality, innerspring, hybrid mattress costs. The price tag for a queen-sized Aviya mattress is only $899, whereas comparable mattresses can run anywhere between $1500 to $2500.
In looking to 2017, Smith and Nolan company still plans on taking their own slice of the online mattress market with nothing more than their online store and the same mattress design they started with in 2015. "We don't believe in using gimmicks to make our mattresses more appealing to consumers. When it comes down to it, people just want a high-quality mattress that helps them sleep better and that continues to do so for years to come. The Aviya mattress does just that," says Smith.