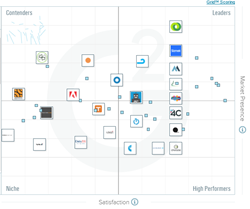 CHICAGO (PRWEB) March 15, 2017
G2 Crowd, the world's leading business software review platform, today released the Spring 2017 Cross-Channel Advertising Software Grid report to help businesses make the best cross-channel advertising technology buying decision. DoubleClick Digital Marketing, Sizmek, Kenshoo Infinity Suite, Marin Software, 4C, MediaMath TerminalOne, AdRoll, Rocket Fuel, and BrightRoll DSP were named Leaders in the report, receiving a strong customer satisfaction score with a large market presence.
Quantcast Advertise, Choozle, Acquisio, The Trade Desk, CAKE, and Rubicon Project, For Buyers were named High Performers in the report, earning strong customer satisfaction marks with smaller market presence scores. 4C earned the highest overall satisfaction score, while DoubleClick Digital Marketing earned the highest overall market presence score.
The Grid leverages customer satisfaction data reported by authenticated users along with vendor market presence determined from social and public data. Based on a combination of these scores, each software solution is categorized as a Leader, High Performer, Contender or Niche.
Key Findings:

More products, better support — The Spring 2017 Cross-Channel Advertising Grid report features 5 new platforms, bringing the total number of products to 24 on this version of the Grid. Among all cross-channel advertising platforms, average satisfaction for products' quality of support showed an increase, jumping up from 80% to 82%. Users noted the importance of quality support throughout the implementation process, with the majority reporting products' quality of support as a positive.
Advertising with machines — Multiple users reported the importance of utilizing machine learning when placing ads to provide optimal campaign performance and promote cost-effectiveness. Cross-channel advertising products seem to be focused on these capabilities, as DSP functionality and machine learning optimization received the highest overall ratings among questions listed in the feature comparison section.
Adopt me, please! — Despite solid overall quality of support across products in the Spring 2017 Cross-Channel Advertising Grid report, the average user adoption rating is a lackluster 57% overall. This correlates strongly with many short-answer responses, with several users reporting displeasure with products' interface usability. On average, users were satisfied with cross-channel advertising products' ease of use at a rate of 80% (same as in the previous version of the report).
About the Cross-Channel Advertising Software Grid report:
The report is based on more than 1,524 reviews written by business professionals.
Of the 48 products listed in G2 Crowd's Cross-Channel Advertising category, the ranked products each received ten or more reviews to qualify for inclusion on the Grid.
About G2 Crowd, Inc.
G2 Crowd, the world's leading business software review platform, leverages more than 140,000 user reviews to drive better purchasing decisions. Technology buyers, investors, and analysts use the site to compare and select the best software based on peer reviews and synthesized social data. Monthly more than a half-million people visit G2 Crowd's site. Co-founded by the founder and former executives from SaaS leader BigMachines and backed by roughly $12 million in capital, G2 Crowd aims to bring authenticity and transparency to business technology research. For more information, go to G2Crowd.com.