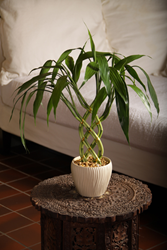 People who love green will love to add houseplants to their favorite spaces at home and work.
Miami, FL (PRWEB) March 16, 2017
Wearing green on St. Patrick's Day is just one way to celebrate the holiday -- and the celebration should continue once this green-loving day passes. Keep the holiday spirit year-round with a green thumb and easy-to-grow houseplants.
There's no better way to celebrate this color than by adding a touch of nature indoors. Plus, The Pantone Color Institute named "greenery" the color of the year, making houseplants super trendy for 2017.
Houseplants add high impact and eco flair for an easy transformation that rivals expensive makeovers.
According to Justin Hancock, garden expert from Costa Farms, there are plenty of easy-care houseplants to choose from in just the right shade of green to fit your style.
"People who love green will love to add houseplants to their favorite spaces at home and work," he said. "Houseplants fit every lifestyle, mood and taste."
Read on for Hancock's top plants to fill your pots with splendid amounts of green.
Top 5 Plants for St. Patrick's Day
1. Lucky Bamboo – Lucky Bamboo stands out with its intricately arranged stems and is a statement piece in any space. This slow-growing houseplant is ultra easy to care for in a low- or medium-light spot. Lucky bamboo can be found in heart shapes, twists, curls and more. Because lucky bamboo typically grows in water, personalize it by placing in a watertight container and secure stems in place with marbles or stones.
2. Ferns – Indoor ferns come in a wide variety of sizes, shapes, and shades of green, making them perfect for St. Patrick's Day. Textural and elegant, many ferns have a timeless look and work with practically every décor style.
3. Ivy – A classic houseplant, ivy has been loved for generations and is still popular. One of the easiest plants to grow indoors, it tolerates low light and inconsistent watering. Place ivy in a hanging gold pot and enjoy how it effortlessly trails over the sides.
4. Money tree – If only there was a money tree at the end of every rainbow. A symbol of good luck, money tree is a favorite plant for those practicing Feng Shui. The tree's shiny, hand-shaped leaves give it an original look.
5. Majesty palm – Elegant and regal,majesty palm is one of the finest houseplants. It's sturdy, easy to care for, and adds a year-round tropical touch every space. The lush, dark green foliage works well with most color schemes, and the palm's classic texture allows it to naturally fit in most home-decor styles.
To find the best houseplant for your home or office and how to care for it, visit http://www.costafarms.com.
About Costa Farms: Costa Farms is the largest producer of ornamental plants in the world. Founded in 1961 by Jose Costa, Costa Farms is a third-generation, family-owned business that globally stretches over 4,000 acres and employs nearly 5,000 people. Along with thriving indoor and bedding plant divisions, Costa Farms operates merchandising and young-plant production divisions as part of its infrastructure, with operations domestically in South and Central Florida, North Carolina and South Carolina, and abroad in the Dominican Republic and Far East.