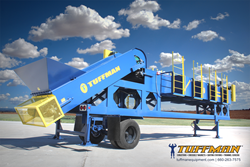 Moberly, Missouri (PRWEB) March 16, 2017
Tuffman® Equipment recently delivered an 8-Man HD-P Portable Sorting Station with roll-off clearance to a client in New Jersey. As with many Tuffman® products, this sorting station was custom made to order, and, at its new home, will be used to separate different recyclable materials to recover scrap metals.
The standard Tuffman® 8-Man HD-P Portable Sorting Station with roll-off clearance includes a 32' long x 42" wide 8-man portable picking table with eight sorting chutes, four on each side. It comes equipped with a 15' long x 42" wide feed conveyor and an 8' wide hopper, variable speed controls, emergency shut-offs and eight individual ladders for the eight stations. It is mounted on a single-axle trailer with a 10" C-channel conveyor frame with removable transfer panel that creates a 7' clearance under the six bins at an adequate height for roll-offs underneath the picking station. This customized unit included an optional crossbelt magnet. Other options that are available include an on-board generator, magnetic head pulley, and hydraulic drive (to name a few).
Tuffman® Sorting Stations are offered in both stationary and portable designs and in a variety of sizes, including 6-man, 8-man, and 12-man models, as well as two mini models, the 3-man and the 4-man. The larger models are ideal for sorting construction and demolition debris and municipal solid waste material, while the mini models are more suited for the sorting and separation of papers, plastic, and other light recyclables.
Because of their versatility, Tuffman® products are currently used both nationally and internationally for a variety of applications including municipal solid waste recovery, curbside recycling, clean-up efforts in areas of natural disasters, and more. They are perfect for high-volume recycling, material separation, and single-stream sorting of commingled commercial waste streams.
To learn more about Tuffman® Sorting Stations or other Tuffman® products, visit http://www.tuffmanequipment.com or contact us at 1-660-263-7575.