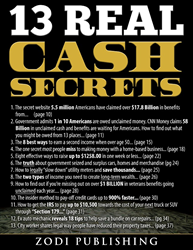 New Free Book Exposing "13 Real Cash Secrets"
Incline Village, NV (PRWEB) March 16, 2017
Research reveals millions of Americans are missing out on thousands of dollars in unclaimed cash and benefits for one reason: they don't know "how" to claim what they are owed. But a new book "13 Real Cash Secrets" by Zodi Publishing shows them how to begin cashing in. And, many are finding success in under 60 minutes of reading the new book.
Take Carl Snyder for example. After years of caring for his 95 year old father. He found himself in debt, out of work and living on disability. Within an hour of reading the free book "13 Real Cash Secrets" he discovered he qualified for over $2850 in annual benefits. And these results are NOT a atypical.
Diane R., a food service worker over 50, discovered she qualified for over $3,375 in annual benefits in less than 30 minutes of following the instructions in "13 Real Cash Secrets."
But Jay Peters of Zodi Publishing in Incline Village, NV says "These days it's smart to be skeptical. But it is 'unwise' to not investigate what you might be missing out on because these are benefits paid for by our tax dollars. And, their is no charge for the book."
Millions of Americans have nothing to lose by checking what cash benefits they are missing out on. Jay Peters says "13 Real Cash Secrets is a life-changing book which will help millions of Americans put thousands of dollars back in their pockets. And you can't beat the price, because there is no charge."
Zodi Publishing welcomes all reporters and news outlets to verify the contents of "13 Real Cash Secrets." Because the more you read, the better it gets. The free 64 page book reveals the following:
1. The secret website 5.5 million Americans have claimed over $17.8 billion in benefits from (page 10.)
2. CNN Money reports 58 Billion in unclaimed cash and benefits are waiting for Americans. Here's how to find out what you might be owed from 13 places (page 11.)
3. The eight best ways to earn a second income from home when over age 50 (page 15)
4. The one secret most people miss to making money with a home based business (page 18)
5. Eight effective ways to raise up to $1,258.00 in one week or less (page 22)
6. The truth about Government seized and surplus cars, homes and merchandise (page 24)
7. How to legally "slow down" utility meters and save thousands (page 25)
8. The two types of income you need to create long-term wealth (page 26)
9. How to find out if you're missing out on $83 million a month in unclaimed Veterans benefits (page 28)
10. And much, much more...
"13 Real Cash Secrets" by Zodi Publishing is available for download at no charge at their website: http://zodipublishing.com
Talk radio and print interviews are available by phone. Please call: (775) 298-4700.
About Zodi Publishing
Zodi Publishing was established in 1994 and is based on the north shore of Lake Tahoe in Incline Village, Nevada. Their Home Study Courses are not sold in stores but offered exclusively through direct marketing.
All courses come with a "30 Day Unconditional" money back guarantee. Their philosophy "If you're not happy, then we're not happy. Because the last thing America needs, is more unhappy people."