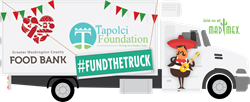 Our projected cost for such a replacement is roughly $113,000, however we would appreciated any assistance whatsoever you may be able to give. - Heidi Hoffman, Donor Relations Coordinator
Pittsburgh, PA (PRWEB) March 16, 2017
Tapolci Foundation, a local not-for-profit organization formed to give back to the community on a greater scale, announces its new spring donation drive, #FundTheTruck. This drive has the goal of helping the Greater Washington County Food Bank raise money toward the purchase of a new refrigerated box truck.
Board Member Jeff Tapolci stated, "When we formed the Tapolci Foundation, donating to organizations in our community such as the Greater Washington County Food Bank was our main purpose." He continued," As a company, we will be volunteering at the Food Bank at the end of April, but we also want to present them with a check with donations raised from this event and online so the impact will be greater."
"One of the most crucial needs is the replacement of our main delivery vehicle—a 1999 international cargo truck. Our goal is to replace the truck with a new 24' refrigeration truck which is imperative in order that we can ensure a safe and timely delivery of food to our 48 food pantries," explained Donor Relations Coordinator Heidi Hoffman of the Greater Washington County Food Bank. She continued, "Our projected cost for such a replacement is roughly $113,000, however we would appreciated any assistance whatsoever you may be able to give."
The #FundTheTruck event will take place on Thursday, April 6th, 4:30 pm to 6:30 pm at Mad Mex in Robinson Township, PA. Fifty-fifty raffles will occur during the evening as well as a Chinese Auction. All are welcome and an RSVP is not required. Donations can also be accepted on the Tapolci Foundation website.
About Tapolci Foundation
The Tapolci Foundation was established in 2014 by the leaders of ABG Capital along with the support of their portfolio companies VoIP Innovations, InspiraFS, and GlobalPOPs. As a not-for-profit corporation, the Tapolci Foundation operates under the laws of the State of Pennsylvania and aims to exemplify the best practices of responsible, effective philanthropy. For more information, please visit Tapolci Foundation.
For more information, please contact:
Tapolci Foundation
Cherie Steffen
Marketing Communications Coordinator
412-406-5328
cheries(at)abgcapital(dot)com