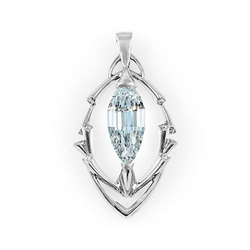 When a famous diamond like the Esperanza changes possession, it's not unusual for it to be renamed by the new owner.
Denver, Colorado (PRWEB) March 17, 2017
The Museum of Named Diamonds announced today it was working closely with the owners of the Esperanza Diamond to help ensure a successful auction of the piece on March 21, 2017, in Boston.
"When a famous diamond like the Esperanza changes possession, it's not unusual for it to be renamed by its new owner," explained Jacques Voorhees, Vice-Chairman of the Museum of Named Diamonds. "For example, the Regent Diamond, named after Phillip II, Regent of France, was originally named the Pitt Diamond, for its first owner, Thomas Pitt, Governor of India, whose grandson William Pitt became the Prime Minister of Great Britain, and for whom the city of Pittsburgh is named. The city kept the name Pitt, but the diamond of the same name became the Regent.
"When the new owner takes possession of the gem, if a change of name is requested, the Museum will record the new name in its Registry, along with any other information the owner is willing to share."
The Esperanza diamond is thought to be the most valuable, and one of the most perfect, diamonds ever discovered in the United States. It is the fifth largest diamond ever produced at the Crater of Diamonds State Park in Arkansas, where it was found on June 24, 2015, by a private party.
The diamond was cut by Mike Botha of Embee Diamonds, at Stanley Jewelers Gemologist in Little Rock, Arkansas. It required 130 hours to cut and polish the Esperanza, and an 800 pound cutting table was used in the process. The original 8.52 carat rough yielded a finished piece of D color (the highest) and an Internally Flawless clarity grade. Mounted in a platinum pendant, the diamond was polished into a 147-facet, teardrop-style triolette shape that is the first of its kind, and was inspired by the unusual icicle shape of the rough diamond itself.
"The unique shape proved a challenge," Botha said. The pendent which holds the Esperanza was created by jeweler Ian Douglas of The Inspired Collection, and it highlights the fact that one end of the diamond is wider than the other.
The Esperanza diamond is being auctioned by Skinner Auctioneers & Appraisers, of Boston, MA.
MoND's Registry of Named Diamonds is the official recording entity for the world's famous diamonds. A recently-launched expansion of the Museum allows anyone who owns a diamond to register a name as well, and include the story of their own diamond in the Museum.
-end-
About The Museum of Named Diamonds http://www.museumofdiamonds.org
The Museum of Named Diamonds was founded in 2015, to serve as a single Registry for the world's named diamonds. Official designation of this role was granted by the World Diamond Mark Foundation, a unit of the World Federation of Diamond Bourses, in June, 2015. The Museum lists the famous diamonds of the world, but also includes a wing for "personal diamonds," and their stories. Accordingly, every consumer can now officially name their diamond, register its name, and have the diamond--and its story--showcased forever, alongside the world's other famous gems. Example: https://museumofdiamonds.org/products/harlech
URL for Esperanza at Auction House: http://tinyurl.com/jcv8ajc
URL for Esperanza in Museum of Named Diamonds, with video of diamond being cut: https://museumofdiamonds.org/products/esperanza-diamond