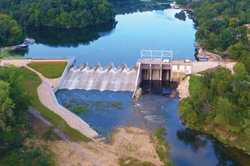 "The unique labyrinth spillway is the crown jewel. It can handle all but the heaviest flows, then the floodgates operate automatically to keep lake levels within permitted levels. It's a perfect solution for us." Lake Delhi Trustee Pat Colgan
DELHI, Iowa (PRWEB) March 30, 2017
The Lake Delhi Dam Reconstruction received an Honor Award in the annual nationwide engineering excellence competition held by the American Council of Engineering Companies (ACEC). This award joins two other top awards including the Exceptional Engineering Award, presented by the Minnesota Society of Professional Engineers and the Grand Conceptor Award from the American Council of Engineering Companies of Iowa. The reconstruction project won the top award in reach competition, which recognizes projects that demonstrate an exceptional degree of innovation, complexity, achievement and value.
Designed by Stanley Consultants, the reconstructed dam features a labyrinth spillway, the first of its kind in Iowa and one the largest in the Midwest. Rarely seen in the Midwest, the labyrinth design can pass high volumes of water across a short distance without using mechanical gates or electrical systems. The accordion-shaped spillway makes it possible, tripling its capacity to pass water as compared to a conventional spillway design.
The dam was breached in 2010, when it was overtopped by floodwaters, draining the popular lake and reducing the region's economic engine to 450 acres of muck. Stanley Consultants, an Iowa-based engineering firm, played an essential role navigating the $13 million project through multiple roadblocks over the next six years. Completing a vast array of classification, permitting and funding requirements took four years, followed by two years of construction.
"Delhi is a family oriented community. The rebirth of Lake Delhi has done more than just reinvigorate our economy. It restores our tradition of life centered around family and the lake," said Lake Delhi Combined Recreational Facility and Water Quality District Trustee Pat Colgan. "The unique labyrinth spillway is the crown jewel. It can handle all but the heaviest flows, then the floodgates operate automatically to keep lake levels within permitted levels. It's a perfect solution for us."
During that time the region felt the economic impact from having no lake income. Property tax revenue and property values dropped, lake construction slowed to a stop and income streams for local businesses dried up. The recent reopening of the lake has reinvigorated the community, which is now a beehive of recreational activity. Construction has resumed, and local businesses are struggling to keep up with demand.
Stanley Consultants provides program management, planning, engineering, environmental and construction services worldwide. Recognized for its commitment to client service and a passion to make a difference, Stanley Consultants brings global knowledge, experience and capabilities to serve clients in the energy, water, transportation and Federal markets. Since 1913, Stanley Consultants has successfully completed more than 25,000 engagements in all 50 states, U.S. territories and in 110 countries. For more information on Stanley Consultants, please visit http://www.stanleyconsultants.com.