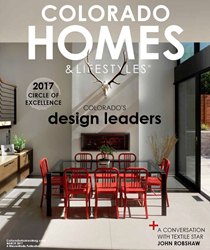 "Our firm has been going beyond perceived limits since its inception," says Arch11 principal Meade.
Denver, Colorado (PRWEB) March 16, 2017
Architect E.J. Meade, principal and co-founder of the Denver and Boulder, Colorado, architecture firm Arch11, has been honored with a 2017 Colorado Homes & Lifestyles Circle of Excellence Award. Announced in the current March issue of the magazine – which features the Arch11-designed Dihedral house on its cover – the Circle of Excellence Awards recognize the state's design leaders who "work to make our world more beautiful, livable and environmentally sustainable," according to Editor in Chief Kate Meyers.
"Colorado Homes & Lifestyles is thrilled to include E. J. Meade as one of our 2017 Circle of Excellence recipients. E.J. has amassed an impressive and beautiful body of work in Colorado and continues to enhance our local landscape," says Meyers.
"Being included in Colorado Homes & Lifestyles Circle of Excellence is an honor," says Arch11's Meade. "Our firm has been going beyond perceived limits since its inception and it's exciting to be recognized among so many distinguished professionals and for our firm's unique brand of hands-on design."
Meade grew up in New Jersey, often helping his grandfather – whom he describes as "an epic tinkerer" – with projects. He later worked at an antiquarian book bindery during his last year at Colby College and hefted a hammer as a carpenter in New England after graduation before studying architecture at the University of Washington and completing his master's at the University of Colorado.
Meade went on to found Arch11 with partner James Trewitt in Boulder in 1993. The firm, which has grown to 20 employees with offices in Boulder and Denver, is known for creating heirloom-quality modernist residences that elegantly answer a variety of challenges – from sustainability (their oeuvre includes a net-zero mountain home at 9,300 feet elevation) to topography ("In Colorado … everything's sloped, or you're looking at a slope," says Meade in the article) to Boulder's famously stringent building codes. But the firm retains its "tinkering" roots.
"We've really tried to get a collection of people at Arch11 who are makers," Meade is quoted as saying in the Circle of Excellence interview. "We've got cabinetmakers, people who make wedding cakes, so in addition to their architecture education, they have an engagement with the tactile qualities of the world. We also always try to have a leg in academia."
While residential design has been the mainstay of Arch11's portfolio, over the years the firm also has designed award-winning restaurants and mixed-use, retail and office buildings that consistently garner awards from local and state AIA chapters along with national media recognition. Arch11 also is a past winner of Colorado AIA North's Firm of the Year Award.
Arch11 client and CEO of startup accelerator MergeLane, Sue Heilbronner, agrees with Colorado Homes & Lifestyles' assessment of Meade's excellence: "E.J. offers a rare blend of vision, pragmatism, artistry, perfectionism and Zen-like calm," Heilbronner told the magazine. "All of these qualities run throughout my home, making it a stunning, organic, livable space."
Editor Meyers notes that the 2017 Circle of Excellence Awards received a record number of submissions and narrowing it down to five was daunting. Now in its third year, the annual contest seeks to identify Colorado design leaders who have had significant careers in residential design and whose work, influence, and community involvement set them at the pinnacle of their profession. The full listing of this year's award winners is available here: http://www.coloradohomesmag.com/Life/2017-Circle-of-Excellence-Award-Winners/.
About Arch11:
Founded in 1993, Arch11 has gained recognition for projects ranging from exceptional residences to institutional planning, mixed-use development and product design, including a 2009 Firm of the Year Award from the Colorado AIA North chapter. With offices in Boulder and Denver, Colo., Arch11 has over 30 combined years of green building technology leadership. The staff's unusual level of hands-on experience ranges from boat building to furniture making, contributing to its reputation for commitment to craft, detailing and design integrity. For additional information visit http://www.arch11.com.
Contact: Sarah Goldblatt, sarah(at)wordprmarketing(dot)com, 303.777.7667