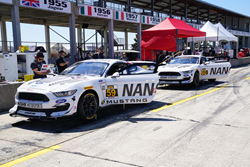 Charlotte, NC (PRWEB) March 17, 2017
NanoProMT kicks into spring this weekend by sponsoring two 2017 Mustangs at the March 17 Continental Tire SportsCar Challenge Sebring 120. The team includes the KohR Motorsports and ROUSH Performance No. 59 driven by Dean Martin and Jack Roush, Jr. and the Multimatic Motorsports No. 60 driven by Scott Maxwell and Jade Buford.
Dean Martin has a long and storied history in the CTSCC, dating back to 2004. He has earned two car championships in the series, along with numerous podiums and poles. Now operating under the name of KohR Motorsports (previously known as Rehagen Racing), the team has not participated in CTSCC since 2013.
Jack Roush Jr. began his career in the Continental Tire Series in 2006, driving the No. 59 Mustang with Dean Martin. His achievements in the series include 10 victories, 28 podiums, and 4 poles.
The Continental Tire SportsCar Challenge Sebring 120 takes the green flag at 3:45 p.m. EST on Friday, March 17. The race will be streamed live on IMSA.com.
About NanoProMT: NanoProMT produces a complete line of industrial, military, and consumer nanoparticle based lubricants, greases, coolants and specialty products. NanoProMT products are designed using microscopic nanoparticles; materials so small that 80,000 of them fit onto the end of a human hair. These particles fill the tiny imperfections in all machined parts and metal surfaces, dramatically reducing friction, heat, wear, and corrosion.
Available at all U.S. AutoZone locations, the company's consumer line of high performance lubricants, greases, and coolants provide nanoparticle performance for a wide variety of automotive, marine, and DIY applications.