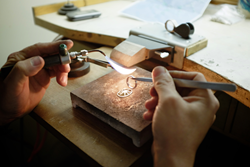 By creating industry specific solutions, systems, and technology, it allows us to catapult the entire jewelry industry and tradition into the 21st century.
Istanbul, Turkey (PRWEB) March 16, 2017
Grand Bazaar Jewelers is pleased to announce that their team of representatives will visit the upcoming Annual Spring Istanbul Jewelry Show to be held at Istanbul's CNR Expo Center for three days starting from March 16th. The team visiting this highly acclaimed jewelry extravaganza will comprise of many of the talented craftsmen and artisans from Grand Bazaar Jewelers.
A crossroads between the Eastern and the Western worlds, Turkey has always been known around the world for its unique jewelry style that creates a confluence between different cultures and religions.
Founded by a fourth generation Armenian jeweler born in Istanbul named Nurhan Gumusmakas, Grand Bazaar Jewelers has been the trendsetter in the Turkish jewelry market. They specialize in gold, 925 sterling silver, and gemstone jewelry created by master jewelers and artisans. Most importantly, Grand Bazaar Jewelers is the first company in Istanbul to offer an online jewelry market in an organized manner.
Currently in its 31st year, the Istanbul Jewelry Fair has played a stellar role in the development of the Turkish jewelry sector. Leading jewelry professionals from all over the world will be present in the show to explore new business relationships and see the latest products. In addition to several exporters, wholesalers, suppliers, dealers, manufacturers, and designers, the event will also be attended by many chain stores, high-end jewelry collectors, mail order businesses, gift shop owners, exporters, importers, wholesaler agents, suppliers, and manufacturers.
At present, Grand Bazaar Jewelers exports products to over seventy countries around the world with a free shipping benefit for the buyers. Having introduced modern features like B2B apps, bar coding systems, simple reordering, and custom jewelry design processes, the company is currently focused on turning Istanbul's jewelry market into a virtual Amazon.com-like warehouse.
Discussing his company's ongoing role behind the evolution of the Turkish jewelry market, Nurhan explains, "We are excited to be local to a place that has been hosting one of the world's premier Jewelry Industry shows. We are in the heart of the production of jewelry and capitalizing on over 5,000 years of a jewelry making tradition. By creating industry specific solutions, systems, and technology, it allows us to catapult the entire industry and tradition into the 21st century."
To find out more about Grand Bazaar Jewelers and their unique collection of jewelry, please visit https://www.grandbazaarjewelers.com/
Contact:
Grand Bazaar Jewelers
Website: https://www.grandbazaarjewelers.com/
Email: support(at)grandbazaarjewelers(dot)com