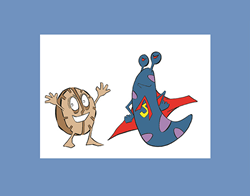 "Amazing Bean is a great multi-resource website for comic fans and parents of babies and toddlers."
San Diego, CA (PRWEB) March 18, 2017
The newly introduced web site of Amazing Bean is intended for the reader who enjoys comic book graphic novels. In addition to comic fans parents and caregivers of younger children will enjoy the live video demos of popular baby toys and baby books. You'll be able to see and read about these wonderful items in detailed videos.
"The intent of Amazing Bean is to capture a broad audience of both cartoon-comic fans and parents by presenting many resources on baby music toys and baby books as well as popular comic graphic novels," says Jeremy Johnson, founder of Amazing Bean and creator of the Amazing Bean cartoon-comic. "Amazing Bean is also for adult interests too. You'll find many resources on self-taught art books and many popular Batman graphic novels."
Note: Visit Amazing Bean at http://www.amazingbean.com