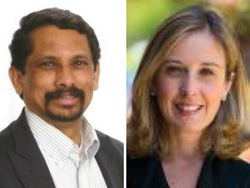 Yorba Linda, Ca (PRWEB) March 17, 2017
Ranking as the third leading cause of cancer death in American men, prostate cancer is a complex disease with multiple tumors originating independently at different stages of growth. Despite the identification of key morphological differences between individual tumor foci, the underlying molecular mechanisms driving growth within individual foci are often poorly understood.
This misunderstanding stems from the fact that the traditional molecular and genetic studies involving systemic sampling of large tumor foci or high Gleason grade tumor foci often miss small tumor foci with important driver aberrations and high metastatic potential. To avoid overlooking foci with important driver aberrations, well-characterized cancer-specific markers can be used to screen the entire prostate tissue to assess molecular differences in individual tumor foci.
In this presentation, sponsored by Novus Biologicals, participants will see a demonstration of the power of dual immunohistochemistry (IHC) and in situ hybridization (ISH) as a technique to probe multiple cancer-specific molecular markers in the morphological context. Webinar attendees will discover a clearer understanding of tumor heterogeneity and proper methods of applying dual IHC/ISH.
The team at Novus Biologicals has arranged two speakers to present during this webinar, Dr. Nallasivam Palanisamy, associate scientist with Henry Ford Health System and Dr. Courtney Anderson, senior scientist of R&D at Advanced Cell Diagnostics.
Palanisamy completed his graduate studies at the University of Madras in India, receiving a doctorate in human genetics. He was the founding director of R&D at the Cancer Genetics, Inc (CGIX), where he introduced new approaches to develop diagnostic reagents targeting chromosomal translocations in cancer. He currently serves as an associate senior scientist at the Henry Ford Health System, where his current research program is focused on the discovery of cancer biomarkers in lymphomas and solid cancers.
Anderson received her Ph.D. in molecular and developmental biology from the University of California San Francisco and her B.A. in human biology from Brown University. In her current role as a senior scientist in R&D at Advanced Cell Diagnostics, she manages numerous projects with collaborators from around the globe to demonstrate new and exciting applications of the RNAscope and BaseScope technologies and their ability to detect RNA biomarkers with single-molecule sensitivity and single-cell resolution with morphological context.
LabRoots will host the webinar March 21, 2017, beginning at 10:00 a.m. PT, 1:00 p.m. ET. To read more about this event and the speakers, learn about P.A.C.E. and Florida Continuing Education credits offered, or to register for free, click here.
ABOUT NOVUS BIOLOGICALS
Novus Biologicals®, a Bio-Techne brand, accelerates scientific discovery by developing and marketing unique products in the forefront of science. Novus Biologicals provides primary antibodies, secondary antibodies, conjugated antibodies and proteins to the bioscience community. All of its products are 100% guaranteed to conform to the application claims listed on the datasheet. Novus Biologicals is committed to innovation and has formed and will continue to form ongoing partnerships with leading researchers. For more information visit http://www.novusbio.com.
ABOUT LABROOTS
LabRoots is the leading scientific social networking website and producer of educational virtual events and webinars. Contributing to the advancement of science through content sharing capabilities, LabRoots is a powerful advocate in amplifying global networks and communities. Founded in 2008, LabRoots emphasizes digital innovation in scientific collaboration and learning, and is a primary source for current scientific news, webinars, virtual conferences, and more. LabRoots has grown into the world's largest series of virtual events within the Life Sciences and Clinical Diagnostics community.