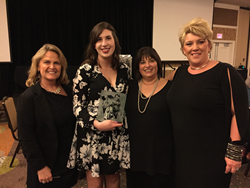 We are humbled and honored that Jeff's legacy will live on for years to come through this award, not only within our family, but also within the Caring Transitions family.
Dallas, TX (PRWEB) March 16, 2017
In 2011, when Jeff and Donna Rea opened Caring Transitions of North Dallas Suburbs, it was because they saw an opportunity to build a business that did important work and could make a positive impact on the lives of the seniors and families in their community. And, even after Jeff lost his courageous battle with cancer last year, Donna and her daughter Nicole knew they wanted to carry on the Caring Transitions' tradition of serving and giving back.
Now the Caring Transitions national team is pleased to announce that the Rea family has been recognized with the company's very first Jeff Rea Caring for a Cause Award. Caring Transitions of North Dallas Suburbs was the only franchise recognized with this award, which was presented at the Caring Transitions national conference in late February.
"Jeff and Donna always ran their business with their heart and, when I went to Jeff's memorial service, I realized how many lives they had touched, both personally and through Caring Transitions. Jeff had a service heart and spent his life giving back and being available to help people heal, learn and grow. When it came time to announce that we were going to start giving out Caring for a Cause Awards, we couldn't envision better recipients than Donna Rea and Nicole Rea," Caring Transitions President Chris Seman said.
Caring Transitions is America's largest resource for managing senior relocations, as well as downsizing and estate liquidations. In addition to organizing, packing, de-cluttering, moving and resettling, Caring Transitions manages estate sales, liquidations, and preparing homes for market. Caring Transitions of North Dallas Suburbs serves Allen, Fairview, Lucas, McKinney, Richardson, Plano, Dallas and surrounding areas. Donna and her daughter, Nicole, are business partners and Nicole operates as the company's General Manager.
Caring Transitions of North Dallas Suburbs was named Rookie of the Year in 2013 and Franchise of the Year in 2014 and has ranked among the company's Top 5 for the past few years, but the Jeff Rea Caring for a Cause Award was completely unexpected, Donna said. Caring Transitions of North Dallas Suburbs also recently celebrated their fifth year in business. Donna and Nicole pointed out that they could not have accomplished these great accolades without the support of their Operations Manager, Charlotte Kroll; Marketing Manager, Kim Ludwig; and each and every one of their incredible Team Members.
"We are humbled and honored that Jeff's legacy will live on for years to come through this award, not only within our family, but also within the Caring Transitions family. Jeff was the best person I knew. He was a good man full of compassion, integrity and love for this company, his family and friends," Donna said. "Jeff has always been a person who believed in serving others. First and foremost, he served God and his family. He always worked feverishly to provide for all of us. He also gave back to God the talents that were given to him."
"I also want to make note that during my absence after Jeff's passing, it was our amazing team who kept the business going full throttle even through their own grief of losing Jeff. I will forever be indebted to our team for continuing to serve our clients and customers during this time," she added.
Whether your situation is planned or unexpected, Caring Transitions' services are perfect for seniors who are downsizing and transitioning, as well as busy families and people clearing out the home of a loved one who has passed. All of Caring Transitions' services are customizable and tailored to client's needs.
In addition to the volunteer work Jeff did on his own - ushering, running the sound board and serving on various committees as well as working with Habitat for Humanity – the Caring Transitions business is also heavily involved in the community. In fact, Donna, Nicole, and their amazing team just recently created a new donation program for people in need
"We have done some pro-bono moves and resettles and been involved in the Alzheimer's Walk over the years, but over the past several months, our Marketing Manager, Kim Ludwig, and some of our team realized that we were donating a ton of equipment such as wheelchairs, walkers, canes, shower chairs, etc. because they typically did not sell at our estate sales. Kim spearheaded a movement to collect these items at our warehouse and began spreading the word that we have made them available for anyone in the community who needs this medical equipment," Donna said.
Donna said she's looking forward to building that donation program and also working with her team to schedule "serve days", where they'll go into the community to help seniors with tasks like yard clean-up or decluttering.
Seman said he's intending to present more Jeff Rea Caring for a Cause Awards in the future, as other franchisees become more deeply engaged in giving back like the Rea family has.
"The people who are drawn to Caring Transitions – franchisees and clients – are people who understand the importance of being connected and making a difference. So many of our franchisees are finding ways to give back to their communities and we, as a company, want to recognize and encourage that kind of engagement. Obviously that kind of support makes an impact on the community, but the emotional return also increases satisfaction for the business owners, the staff, their clients and more. That's incredibly valuable. We're looking forward to presenting more Jeff Rea Caring for a Cause awards in the future," Seman said.
Donna is a Certified Relocation and Transition Specialist, a designation bestowed by an independent organization that evaluates providers of senior relocation services. Caring Transitions of North Dallas Suburbs is bonded and insured and all employees are background-checked. For additional information, call (214)504-1650, or visit http://www.caringtransitionsnorthdallassuburbs.com.
About Caring Transitions
Caring Transitions, founded in 2006, is the first national franchising concept specializing in senior relocation and transition services. With more than 200 locations throughout the United States all owned and operated by Certified Relocation and Transition Specialists, Caring Transitions provides clients with supportive moves, auctions, rightsizing and transitions. This includes expert advice plus a well-executed transition plan beginning with the initial sorting of personal belongings through packing, shipping and selling of items to the final clearing and cleaning of the property. For more information, visit http://www.caringtransitions.com or visit us on Facebook.