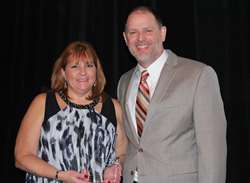 We know how hard it is for our clients to handle these major transitions in their lives, so our number one goal is to make it easier for them in whatever way we can.
Mechanicsburg, PA (PRWEB) March 16, 2017
Caring Transitions is pleased to announce that Carolyn Doerr, the owner of Caring Transitions of Mechanicsburg, has been recognized with a Caring Transitions Shooting Star Award.
A Shooting Star Award is given to a franchisee who is experiencing early business growth and has demonstrated a commitment to the success of both their business as well as the franchise system as a whole. All of the company's awards were presented at the Caring Transitions national conference in San Antonio in late February.
"The lifeblood of a franchise system is always having owners with a demonstrated commitment to the success and future of the system overall. The Shooting Star Awards recognize franchisees who are doing a great job building their business, but are always actively sharing their experiences to help everyone in the Caring Transitions family grow together. Carolyn has brought her energy and passion for business and service to her Caring Transitions business and we wanted to recognize that focus on growth," Caring Transitions President Chris Seman said.
Caring Transitions is America's largest resource for managing senior relocations as well as downsizing and estate liquidations. In addition to organizing, packing, de-cluttering, moving and resettling, Caring Transitions can handle estate sales, liquidations and preparing homes for market. Caring Transitions of Mechanicsburg, which opened in mid-2015, serves the Pennsylvania counties of Cumberland, Perry, Dauphin, York and Adams as well as the surrounding communities.
In addition to her Shooting Star Award, Doerr's franchise was recognized as one of the top 25 franchises in 2016.
"I was quite honored to find out that Caring Transitions of Mechanicsburg was one of the top 25 offices, and winning this award was the second pleasant surprise! Being as I am a single-income household, my motto has been, 'Failure is not an option!' Although I know we are not the only company in our area that does senior relocations and estate sales, I tell everyone that we are the best. My employees and I really care about our clients. We do everything we can to make their transitions as smooth and carefree as possible. And we treat every home as if it is our own. Our clients put their trust in us, and we treat them with the dignity and respect that they deserve," Doerr said.
Whether your situation is planned or unexpected, Caring Transitions' services are perfect for seniors moving in with family or into a safer living situation as well as busy families and people clearing out the home of a loved one who has passed. All of Caring Transitions' services are customizable, so clients only pay for the services they need – whether that means managing the entire move and estate-clearing or just getting someone resettled into their new place.
Doerr said she's hoping to add to her staff, expand her referral partners and build an even more successful business in 2017 without losing focus on caring for her clients and their families.
"I want to continue to make sure that each and every one of our clients is completely satisfied with our services. We know how hard it is for our clients to handle these major transitions in their lives, so our number one goal is to make it easier for them in whatever way we can. We love what we do, and we want to be the best at it," Doerr said.
Doerr is a Certified Relocation and Transition Specialist, a designation bestowed by an independent organization that evaluates providers of senior relocation services. Caring Transitions of Mechanicsburg is bonded and insured and all employees are background-checked. For additional information, call (717) 609-1079, email CDoerr(at)CaringTransitions(dot)net or visit http://www.CaringTransitionsMechPA.com.
About Caring Transitions
Caring Transitions, founded in 2006, is the first national franchising concept specializing in senior relocation and transition services. With more than 200 locations throughout the United States all owned and operated by Certified Relocation and Transition Specialists, Caring Transitions provides clients with supportive moves, auctions, rightsizing and transitions. This includes expert advice plus a well-executed transition plan beginning with the initial sorting of personal belongings through packing, shipping and selling of items to the final clearing and cleaning of the property. For more information, visit http://www.caringtransitions.com or visit us on Facebook.