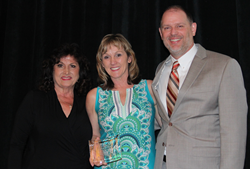 It is our first name that sets us apart. Caring is what we do best. We come alongside families during an overwhelming time and do what we can to ease their stress.
Upland, CA (PRWEB) March 16, 2017
Caring Transitions is pleased to announce that Caring Transitions Inland Empire Foothills, locally owned and operated by sisters Susan Rowan and Sandy Leal, has been recognized with a Caring Transitions Shooting Star Award.
A Shooting Star Award is given to a franchisee who's experiencing early business growth and has demonstrated a commitment to the success of both their business as well as the franchise system as a whole. All of the company's awards were presented at the Caring Transitions national conference in San Antonio in late February.
"The lifeblood of a franchise system is always having owners with a demonstrated commitment to the success and future of the system overall. The Shooting Star Awards recognize franchisees who are doing a great job building their business, but are always actively sharing their experiences to help everyone in the Caring Transitions family grow together. Susan, Sandy and their team have brought their energy and passion for business and service to their Caring Transitions business and we wanted to recognize that focus on growth," Caring Transitions President Chris Seman said.
Caring Transitions is America's largest resource for managing senior relocations as well as downsizing and estate liquidations. In addition to organizing, packing, de-cluttering, moving and resettling, Caring Transitions can handle estate sales, liquidations, preparing homes for market. Caring Transitions Inland Empire Foothills serves Rancho Cucamonga, Upland, Claremont, La Verne, San Dimas, Glendora and the surrounding areas.
"Throughout our first year, our clients and estate sale customers recognized and appreciated our hard work and efforts. We go above-and-beyond on every household relocation, estate sale, decluttering and household liquidation we are hired to do. Being recognized by corporate and our peers for our dedication and hard work is sweet icing on the cake," Rowan said. "I believe our rapid growth is due to the relationships we have cultivated throughout the year. We are surrounded by professionals that care deeply for the senior community. Caring Transitions Inland Empire Foothills has become a strong partner to many who are committed to serve seniors with the integrity, care and dignity they deserve."
Whether your situation is planned or unexpected, Caring Transitions' services are perfect for seniors moving in with family or into a safer living situation as well as busy families and people clearing out the home of a loved one who has passed. All of Caring Transitions' services are customizable, so clients only pay for the services they need – whether that means managing the entire move and estate-clearing or just getting someone resettled into their new place.
"It is our first name that sets us apart. Caring is what we do best. We come alongside families during an overwhelming time and do what we can to ease their stress. The emotional support we provide is equally as important as the rest of our services. We are in the business of being a blessing to others during life's most difficult transitions. That is an honor we take seriously," Leal said. "Too many families tackle the entire project of household relocation and liquidation by themselves because they are not aware that there are caring professionals to help them with every step."
Looking ahead to the future, Leal and Rowan are looking forward to growing their business by educating the community about the services Caring Transitions provides and building their staff to serve more clients. They're also excited about getting more involved in the community.
"Last year we were able to donate blankets and supplies to animal shelters, donate food to the homeless, and support quality non-profit organizations through financial and in-kind donations. Our support will increase by leaps and bounds as our business grows. It should be an exciting year indeed," Rowan said.
Leal, the company's Chief Operating Officer, is a Certified Relocation and Transition Specialist, a designation bestowed by an independent organization that evaluates providers of senior relocation services. Caring Transitions Inland Empire Foothills is bonded and insured and all employees are background-checked. For more information about Caring Transitions, call (909)259-0280, email SRowan(at)CaringTransitions(dot)com or visit http://www.caringtransitionsiefoothills.com.
About Caring Transitions
Caring Transitions, founded in 2006, is the first national franchising concept specializing in senior relocation and transition services. With more than 200 locations throughout the United States all owned and operated by Certified Relocation and Transition Specialists, Caring Transitions provides clients with supportive moves, auctions, rightsizing and transitions. This includes expert advice plus a well-executed transition plan beginning with the initial sorting of personal belongings through packing, shipping and selling of items to the final clearing and cleaning of the property. For more information, visit http://www.caringtransitions.com or visit us on Facebook.