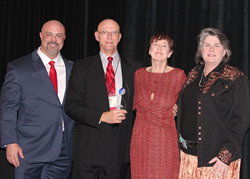 For Jim, giving up was never an option. It's not just the business and the investment – we have people who are counting on us: our employees, their families, our clients and our community. We weren't about to throw in the towel.
New Bern, NC (PRWEB) March 16, 2017
Last summer, Jim and Lorraine Yaeger's business, Fresh Coat of New Bern, had finally picked up the steam they were hoping for and they were on track to meet their goals for 2016. But when Jim found out he needed immediate open-heart surgery in August, he and Lorraine's momentum came to a standstill as they focused on helping Jim recover.
Now, just more than six months later, Fresh Coat Painters is pleased to announce that the Yaegers are the recipients of the company's Phoenix Award. The award was presented to Jim and Lorraine at the national Fresh Coat conference in San Antonio in late February. The Phoenix Award is given to Fresh Coat franchisees who overcome tremendous odds and are able to rebuild successful businesses.
"When we found out Jim had to have surgery, we were on track to meet our goal. The business was doing really well and we were finally getting to where we wanted to be. In the aftermath, we've had a lot of pieces to pick up, but, with the help of the corporate office, our friends and our team, we're getting back on track," Lorraine said. "We were surprised at the recognition – we've known people who have received this award before and we have the upmost respect for them and all the challenges they've overcome. It's an honor to be in those ranks now."
Fresh Coat offers residential and commercial painting services including interior and exterior painting, wood staining and finishing, and other services for nearly every protective coating application. Their professional painters use quality, environmentally safe materials and the company offers a 24/7 customer call center, online scheduling, in-home color design consultations and detailed quotes. Fresh Coat of New Bern serves Eastern North Carolina, including New Bern, Morehead City, Emerald Isle, Havelock, Oriental and the surrounding communities.
"The mission of Fresh Coat is larger than the business itself – we're trying to professionalize the entire painting industry. Our industry doesn't always enjoy a good reputation, but we see that as a tremendous opportunity to give people what they've wanted all along: professional painters who are honest, show up on time, do great work, make things right if they're not and are upfront and transparent about pricing. Fresh Coat is a cut above. We want to thrill our customers. We want them to look at our work and their home and say, 'Wow,'" Lorraine said.
"Paint, in all its amazing colors, is the most inexpensive way to change everything, including the entire atmosphere of your home. We often say, 'Jesus and paint can change everything!' At Fresh Coat, we want to make the world a more beautiful place, one paint job at a time," she added.
Fresh Coat President Tara Riley said she was pleased to be able to recognize the Yaegers with the Phoenix Award and is looking forward to seeing them build an even stronger business moving forward.
"The Yaegers are not only the nicest people you will meet, but they are tenacious as well. Against the odds of a challenging year in their personal lives, they were able to still stay focused and stay committed to their business and to their high level of customer service," Riley said.
Jim opened Fresh Coat Painters of New Bern in 2013 after a long career in heavy construction. He first came to the area in May of 2012 to help with the Hurricane Irene recovery efforts and, after getting to know the area, he and his wife decided they wanted to call Eastern Coastal NC home. Now that they're working to rebuild the business, they're especially grateful for the New Bern and Pamlico County community, their team, their clients, friends and family, and their Fresh Coat family.
"This has been our Season of Blessing in Adversity. We just have to thank God – we had so many people praying for us and we truly felt it. The people in our lives have been a huge blessing. We're getting through this because of God, our team the community and the people at Fresh Coat," Lorraine said. "For Jim, giving up was never an option. It's not just the business and the investment – we have people who are counting on us: our employees, their families, our clients and our community. We weren't about to throw in the towel."
As part of their commitment to customer service, Fresh Coat of New Bern offers a 3-3-3 customer service pledge, so calls will be answered by a live person within three minutes, a quote will be delivered within three days (customer schedule permitting) and the job will be started within three weeks.
All Fresh Coat employees are trained, dependable, fully insured and background-checked. For more information about Fresh Coat of New Bern, call (866)748-2777, email JYaeger(at)FreshCoatPainters(dot)com or visit http://www.FreshCoatNewBern.com.
About Fresh Coat Painters
With more than 120 locations nationwide, Fresh Coat Painters brings quality customer service, top-notch painting products, professionalism and affordable pricing to the residential and commercial painting industry. They use quality, environmentally safe materials and offer a 24/7 customer service center, online scheduling, in-home color design consultations, and detailed quotes. All painters are bonded and insured employees. For more information, call 1-855-FRESH-COAT or visit us on Facebook.
The company was founded in 2004 as part of Strategic Franchising Systems. In the last year, Fresh Coat has been included in the Bond's Top 100 and named to Entrepreneur Magazine's Franchise 500 list. Fresh Coat is also part of the International Franchise Association, the Small Business Association's Franchise Registry, VetFran and Minority Fran.