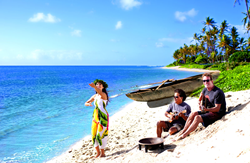 "[the] most exciting and beautiful contemporary Hawaiian music the world knows!"… (Maui Times)
San Rafael, CA (PRWEB) March 16, 2017
The Kanbar Center for the Performing Arts at the Osher Marin JCC celebrates 25 years of presenting with one of their favorites Summer Nights bands, Maui's Super Group; HAPA. This indoor Hawaiian concert celebrates a quarter of a century of community building through the arts, and offers the opportunity to experience a HAPA performance in the intimate, yet grand Hoytt Theater.
The event will offer Hawaiian cuisine & cocktails for sale and utilize the full first floor and courtyard of the center as well as the theater. The stars of the night will be the most recognized name in Hawaiian music; HAPA. Their hypnotic, liquid guitar runs, woven around clear, tenor Hawaiian vocals and immaculate harmonies driven by poetic lyrics, exult the rapture of the Hawaiian landscape, history and mythology.
The evening will include welcoming ukuleles, leis & beautiful traditional Hula dance performance from Halau Hula Na Pua O Ka Laakea . A trip to the islands without leaving the mainland, audience is encouraged to wear their island attire and come enjoy Hawaii's hottest group!
"…Hapa explore(s) the rich possibilities of Hawaiian music and then some, blending a variety of pop and world music styles." - SAN FRANCISCO CHRONICLE
WHAT: Hawaiian super-group HAPA performs celebrating 25 years of Arts Presentations from the Kanbar Center for the Performing Arts at the Osher Marin JCC.
WHO: All are invited. No membership or affiliation required.
TICKETS: From $32. VIP, Reserved Tables & GA choices-
WHEN: Sat. May 20 @ 8pm. Dinner & Cocktails at 7- Performance: 8pm
WHERE: The Osher Marin JCC, 200 N San Pedro Rd, San Rafael, 1/2 mile E off 101
PARKING: Ample FREE parking.
BUY: Tickets available at http://www.marinjcc.org/arts
ABOUT HAPA: Like the Hawaiian Islands themselves, HAPA's Pan-Polynesian music is an amalgam of influences ranging from ancient genealogical chants to the strummed ballads of Portuguese fisherman, Spanish cowboys, and the inspired melodies and harmonies of the traditional church choirs of the early missionaries. Add to this a dose of American acoustic folk/rock, and you have what has been described as, "[the] most exciting and beautiful contemporary Hawaiian music the world knows!"… (Maui Times).
The Kanbar Center for the Performing Arts is the Performing Arts Department within the Osher Marin Jewish Community Center in San Rafael, California. All are welcome, no membership is ever required to attend. The Center is a long-standing Marin non- profit, centrally located in Marin County.