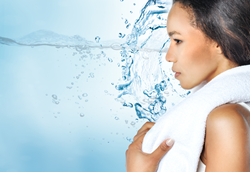 Eagan, Minnesota (PRWEB) March 20, 2017
Crutchfield Dermatology Skin & MediSpa (http://crutchfielddermatology.com/spa/) is pleased to announce the arrival of the HydraFacial MD® to Eagan, Minnesota. Winner of New Beauty's 2015 Best In Office Treatment, this innovative treatment provides results after just a one visit. Charles E. Crutchfield, III M.D. is excited to add such a widely requested and effective treatment to his Skin & MediSpa's aesthetics lineup.
"As one of the most recognized and awarded physicians specializing in aesthetic medical treatments in Minnesota, we have been amazed at the effectiveness of the new HydraFacial MD treatment. While some facilities use the treatment in its "out of the box" format, we've used our years of experience with thousands of successful procedures to customize the treatment for maximum effectiveness and outstanding results," Dr. Crutchfield explains.
Conveniently located just off Yankee Doodle in Eagan, Crutchfield Dermatology is recognized across the Midwest and beyond as one of the top Skin & MediSpas for aesthetics. The HydraFacial MD adds another world-class procedure to their lineup.
Loved by the medical community, beauty editors and celebrities alike the HydraFacial MD delivers immediate results & long-term benefits without downtime or irritation. Great for all skin types, the HydraFacial MD® Treatment is not only highly effective at improving overall skin health, but also excellent for remedying fine lines and wrinkles, enlarged pores, elasticity & firmness and much more. The HydraFacial MD® combines cleansing, exfoliation, extraction, and hydration all while delivering antioxidants, Hyaluronic Acid, peptides and other essential nutrients.
At Crutchfield Dermatology, patients take comfort in knowing that experience counts and quality matters. As a board certified and Clinical Professor of Dermatology at the University of Minnesota Medical School, Dr. Crutchfield personally sees every patient visiting the practice. "I want all my patients to look good and feel great with beautiful skin," states Dr. Crutchfield. Crutchfield Dermatology specializes in designing customized skin treatments utilizing the most advanced lasers, techniques and prescription products to make any skin problem look fresh, healthy and naturally beautiful. Dr. Crutchfield specializes in ethnic skin care, psoriasis, acne, vitiligo, eczema in children and cosmetic dermatology. A nationally recognized leader in the field of dermatology, Dr. Crutchfield has written over 100 skincare articles and co-authored a textbook of dermatology. He has consistently been recognized by over 5,000 of his peers as being one of the top dermatologists and having one of the top dermatology clinics in the nation. He has annually been selected as a "Top Doctor for Women" since the inception of the survey by Minnesota Monthly Magazine, recognized as a "Best Doctor in America 2011-2012" by Best Doctors, and as a "Top Doctor" by Minneapolis St. Paul Magazine.
Crutchfield Dermatology is located at 1185 Town Centre Dr., suite 101, Eagan, Minnesota. Please call 651-209-3600 for more information, or visit their website at http://www.crutchfielddermatology.com
The award-winning HydraFacial MD® advances skin health by merging invigorating spa therapies with advanced medical technology. Developed by Edge Systems LLC, a company that has combined the most advanced device and formula technologies available, enabling the company to become a worldwide industry leader known for a rich history in first-to-market innovations.
Crutchfield Dermatology Skin & MediSpa is a proud member of Doctors for the Practice of Safe and Ethical Aesthetic Medicine (DPSEAM). DPSEAM is limited to board-certified physicians who maintain the appropriate physician - patient relationship by having a medical director or licensed physician on site during all treatments including laser and injection services, require that a qualified physician examines every patient before the initial treatment or course of treatment, analyze patients' pre-existing conditions or contradictions that would render the procedure unsafe or ineffective, create care plans that demonstrate how and why patients will benefit from planned procedures, and maintain an environment where patients feel free to ask questions and secure additional information about expected outcomes, among other requirements that protect cosmetic patients.