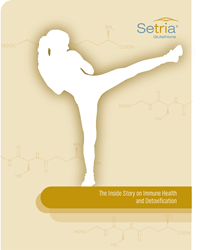 (PRWEB) March 17, 2017
Kyowa is pleased to announce the launch of its premium branded ingredient Setria® Glutathione in the European markets.
Setria® is a branded form of glutathione, an antioxidant present in almost all cells of the body. Glutathione plays an important role in numerous bodily processes, including antioxidant protection, detoxification and immune system fortification. Glutathione may be depleted as a result of poor lifestyle choices, stress and natural ageing. Supplementation is needed if one's diet does not include abundant unprocessed fruit and vegetables.
Kyowa Hakko has been manufacturing glutathione since the 1960s using a patented fermentation process. This proprietary technology, several years in the making, further distinguishes Setria® glutathione from generic glutathione in the market. Setria is a high purity form of glutathione, vegetarian and allergen-free with no animal or human raw materials used. It is clinically tested and has been shown to increase the levels of glutathione in the blood when taken orally.
Setria® Glutathione is a unique tripeptide consisting of three important amino acids: glutamic acid, cysteine and glycine. The name SETRIA comes from SET the balance + TRI, of tripeptides. In other words, SETRIA is a tripeptide that helps to set the body's glutathione back to balance.
Setria® Glutathione is already successfully sold in the USA and Asia as a key antioxidant ingredient and is now available to the European dietary supplement market.
For more information about Setria®Glutathione, visit http://www.setriaglutathione.com
References
1 Richie JP Jr, Nichenametla S, Neidig W, Calcagnotto A, Haley JS, Schell TD, Muscat JE. Randomized controlled trial of oral glutathione supplementation on body stores of glutathione. European Journal of Nutrition. May 2014: 1436-6207. doi: 10.1007/s00394-014-0706-z
About Kyowa Hakko USA and Kyowa Hakko Europe
Kyowa Hakko USA and Kyowa Hakko Europe are the regional offices of KYOWA HAKKO BIO CO., LTD., an international health ingredients manufacturer and world leader in the development, manufacturing and marketing of pharmaceuticals, nutraceuticals and food products including an extensive range of high-quality amino acids. Kyowa is the maker of branded ingredients including Cognizin® Citicoline, Pantesin® Pantethine, Setria® Glutathione, as well as Sustamine® L-Alanyl-L-Glutamine.
For more information about Kyowa Hakko Bio Co. Ltd, visit http://www.kyowahakko-bio.co.jp, or contact our regional offices in USA http://www.kyowa-usa.com, and in Europe http://www.kyowa.eu
*Setria® is a registered trademark of Kyowa Hakko Bio Co., Ltd.
*These statements have not been evaluated by the Food and Drug Administration or European Food Safety Authority. This product is not intended to diagnose, treat, cure, or prevent any disease.