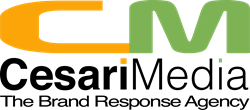 Rick Cesari who has strengthened brands, such as GoPro and the George Foreman Grill, brought a flock of students
Seattle, Washington (PRWEB) March 18, 2017
Cesari Media, a DRTV and Digital advertising agency that specializes in building brand through sales via integrated campaigns, contributes to community learning with Rick Cesari speaking for the Kent State University's student organization, Franklin Advertising.
Franklin Advertising is Kent State's pre-professional advertising student organization dedicated to providing students with networking opportunities, events, speakers, and skills that relate to the advertising and communications fields. Membership is open to all students but content is tailored to students majoring in advertising, public relations, visual communication and design, marketing and communications.
Wendy Wardell, Lecturer for the School of Journalism and Mass Communication and Faculty Adviser for Franklin Advertising was introduced to Cesari Media at Adweek 2016 in NYC and realized that it would be valuable for students to listen to a 20 year veteran in brand response and invited Rick Cesari to speak.
Senior advertising major, Ellie Schering, a marketing intern and audience member commented, "Getting students to attend out-of-class events can be a struggle… last Tuesday night was different. Rick Cesari who has strengthened brands, such as GoPro and the George Foreman Grill, brought a flock of students. He certainly didn't disappoint. Rick surprised most with his degree in Biology and selling tanning lotion after graduating college. This statement was impactful to students, because we all go through a stage where we don't know exactly where we're heading. It gave me hope that everything will turn out fine in the end. He gave us insights into the marketing and business world, such as his Timeless Marketing Tips; 5 Keys to Brand Building, and that creating a relationship with consumers is far more important than being product heavy; and that's what Rick did. He created a relationship and conversed with the audience, without focusing just on his accomplishments."
Rick Cesari says, "After twenty years in the DR business, and still acting as the CEO and chief strategist for Cesari Media, in addition to speaking for professionals, I truly enjoy speaking to university students just starting their careers in advertising who may not fully recognize that in our digital world whether for TV or Internet, accountability and really connecting with the consumer for branding and direct selling is key."
About Cesari Media
Founded in 1994, privately-held Cesari Media specializes in brand response television advertising with companion digital and mobile campaigns. Having been the agency of record for brands like GoPro, reaching a billion in sales in just seven years, Cesari Media has shown repeated success in taking a brand from start to stardom; maximizing big brand through direct sales in tandem with traditional agencies; as well as acting as the agency of record for their brand response advertising. Cesari Media has helped produce multi-million dollar successes for its clients including George Foreman Grill, OxiClean, and Sonicare. With a winning campaign management model, proven-campaign results, and state-of-the-art analytics, Cesari Media continues to meet the needs of the times capitalizing on its long history of success.