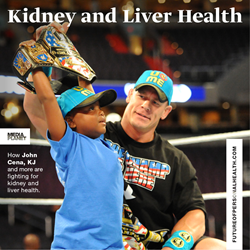 New York, NY (PRWEB) March 16, 2017
Mediaplanet today announces the launch of its cross-platform edition of "Kidney & Liver Health," aiming to serve as a resource for patients and physicians by highlighting the newest innovations and treatments for kidney & liver wellness.
The print component of "Kidney & Liver Health" is distributed within USA Today with a circulation of approximately 250,000 and an estimated readership of 750,000 in the markets of Atlanta, New Orleans, Nashville, Carolinas, Dallas, Pittsburgh/Cleveland, Philadelphia The digital component is distributed nationally, through a vast social media strategy, and across a network of top news sites and partner outlets. To explore the digital version of the campaign, go to Mediaplanet's Future of Healthcare website.
Actor and WWE Superstar John Cena graces the cover of the print publication. Inside, Cena shares his inspirational story of why he loves to be involved in granting children's wishes for Make-A-Wish Foundation.
This campaign was made possible with the support of the National Kidney Foundation, International Society of Nephrology, Hepatitis C Association, Cleveland Clinic, Fresenius Medical Care, Make-A-Wish Foundation, Satellite Healthcare, Pentec Health, University of Pittsburgh Medical Center, American Association of Diabetes Educators, United Network of Organ Sharing, American Association of Kidney Patients, American Nephrology Nurses Association, and more!
About Mediaplanet
Mediaplanet is the leading independent publisher of content marketing campaigns covering a variety of topics and industries such as Health, Education, Lifestyle, Business and Technology and Corporate Social Responsibility. We turn consumer interest into action by providing readers with motivational editorial, pairing it with relevant advertisers and distributing it within top newspapers and online platforms around the world. Please visit http://www.mediaplanet.com for more on who we are and what we do.
Press Contact
Chelsea Maizel
Chelsea.maizel(at)mediaplanet(dot)com
646-979-2832