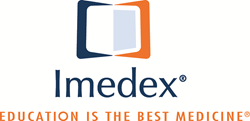 COA is excited to be able to speak directly to the incredible medical innovators that attend Imedex's conferences.
Alpharetta, Georgia (PRWEB) March 17, 2017
Imedex, an industry leader in developing and providing Continuing Medical Education (CME) in Oncology, and the Community Oncology Alliance (COA), a non-profit organization dedicated to advocating for community oncology practices and the patients they serve, have agreed to a mutual endorsement partnership.
Recognizing the high quality, certified medical education developed by Imedex and the value this educational content delivers to the practicing community oncologist, COA has agreed to endorse select US based Imedex oncology conferences in 2017 and 2018.
"Imedex is honored to have the official COA endorsement of our proprietary educational events and activities," said Dan Lowrie, CEO, Imedex. "COA represents nearly 15 years of dedication to protecting the viability of the nation's cancer care delivery system and patients' access to quality, affordable cancer care."
With this broad endorsement, COA will be able to leverage the Imedex network of educational conferences and programs to further reach their core constituency through interactive conference presentations, exhibit booths, and other outreach initiatives. COA will be able to speak directly to conference attendees about the latest policy updates in the areas of payment reform, consolidation of cancer care, drug shortages and other important regulatory topics.
"COA is excited to be able to speak directly to the incredible medical innovators that attend Imedex's conferences," said Mary Kruczynski, director of policy analysis at COA. "This partnership will allow us to both educate these leaders in cancer care policy and learn from them as well."
Upcoming Imedex conferences with COA participation include:
Great Debates & Updates in GI Malignancies
March 24-25, 2017 | New York, New York
Wyndham New Yorker Hotel
http://www.greatdebatesingimalignancies.com
Great Debates & Updates in Hematologic Malignancies
April 7-8, 2017 | New York, New York
New York Marriott Downtown
http://www.greatdebatesinhematologicmalignancies.com
Lymphoma & Myeloma 2017: An International Congress on Hematologic Malignancies
October 26-28, 2017 | New York, New York
Sheraton New York
http://www.lymphomaandmyeloma.com
22nd Annual Perspectives in Thoracic Oncology
November 17-18 2017 | New York, New York
Westin New York at Times Square
http://www.perspectivesinthoraciccancer.com
###
About Imedex
Imedex is the industry leader in developing and delivering independent, certified health care education. Our courses, specializing in oncology, gastroenterology, and hematology, are provided through live events around the world, as well as effective online educational opportunities for on-the-go healthcare providers.
With high-quality scientific programming translating the latest research into clinically-relevant information, our activities address the needs of healthcare professionals inundated by information through exceptional organization and outstanding educational value, with a proven sustained impact on patient care.
Since 2001, our global footprint has provided over 50,000 E-learning experiences annually, and our live conferences have interfaced with more than 100,000 attendees from over 100 countries, including the United States, Europe and Asia. At Imedex, education is the best medicine®. For more information on Imedex, visit us online at http://www.imedex.com, or at http://elc.imedex.com, our online learning center.
About the Community Oncology Alliance
The Community Oncology Alliance (COA) is the only non-profit organization dedicated solely to preserving and protecting access to community cancer care, where the majority of Americans with cancer are treated. COA helps the nation's community cancer clinics navigate a challenging practice environment, improve the quality and value of cancer care, lead patient advocacy, and offer proactive solutions to policy makers. To learn more, visit https://www.CommunityOncology.org. Follow COA on Twitter at http://www.twitter.com/oncologyCOA or on Facebook at http://www.facebook.com/CommunityOncologyAlliance.