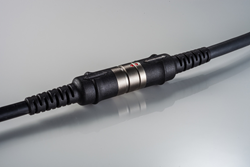 Camarillo, CA (PRWEB) April 04, 2017
ODU, a worldwide leader in designing and manufacturing high-performance connector solutions and cable assemblies is launching to the US market its cable assembly rapid manufacturing for ODU AMC® connector solution portfolio.
ODU AMC® product portfolio offers: up to 70% smaller and lighter connectors, high data transfer capability (USB 3.0, USB 2.0, HDMI 2.0 and Ethernet CAT5+CAT6A), IP68 water protection with an option for submersion up to 20M, high shock and vibration resistance, non-reflective and RoHS compliant surfaces, flex terminated solutions, metal robust housings, high reliability and easy handling, and extensive power (SwaP) capabilities.
ODU-USA cable assembly rapid manufacturing capabilities include: custom turnkey solutions, rapid prototyping and product development, thermoplastic injection molding design & fabrication, bonding and laser etching, private labelling, factory direct and an ITAR regulated facility. The off the shelf prefabricated cables are available for most ODU AMC® connector shell sizes and configurations.
Additionally, ODU provides also an advanced portfolio of product assembly technologies and services such as: one stop shop, solder, crimp and PCB terminations, overmolding with TPE, TPU and PVC, customizable overmolding turn-key solutions, EMC-compatible assembly, 100% final inspection.
For more product information go to: http://www.odu-usa.com
ODU Group: global representation with perfect connections
The ODU Group is one of the world's leading suppliers of connector systems, employing 1,650 people around the world. In addition to its company headquarters in Mühldorf am Inn (Germany), ODU also has an international production and distribution network throughout Europe, North America and Asia. ODU combines all relevant areas of expertise and key technologies including design and development, machine tooling and special machine construction, injection, stamping, turning, surface technology, assembly and cable assembly. The ODU Group sells its products globally through its eight subsidiaries in Denmark, England, France, Italy, Sweden, the US, China and Japan, as well as through numerous international sales partners. ODU connectors ensure a reliable transmission of power, signals, data and media for a variety of demanding applications including medical technology, military and security, eMobility, energy, industrial electronics, and measurement and testing.
For press inquiries, please contact:
Dana Stoica - Head of Marketing, North America
Phone +1 (805) 484-0540 Fax: +1 (805) 484-7458
Email: dana.stoica(at)odu-usa(dot)com