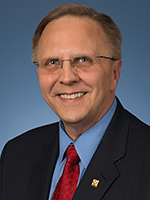 For many colleagues who worked with Mike at Trinity Health, he already is a trusted friend and mentor with a record of inspiring people to do their best.
LIVONIA, MICH. (PRWEB) March 17, 2017
Trinity Health today announced that Mike Slubowski will be President and Chief Operating Officer for the system, adding another experienced health care leader to help the system achieve its People-Centered 2020 strategic plan.
Reporting to Trinity Health Chief Executive Officer Richard J. Gilfillan, M.D., Slubowski will be responsible for operational and clinical activities across the system. He will begin his new role on May 15, 2017.
"Mike is an exemplary strategic leader who shares our Mission and our vision for a people-centered health care system, and we are fortunate he is joining our team," Gilfillan said. "For many colleagues who worked with Mike at Trinity Health, he already is a trusted friend and mentor with a record of inspiring people to do their best."
"Trinity Health is in the midst of significant growth and transformation, and I look forward to helping the system continue on its path to serving people and communities nationwide," Slubowski said. "This transition also keeps me firmly grounded in Catholic health care, which is a personal passion and a critical ministry for millions of people."
Slubowski is the President and CEO of SCL Health, where he has a seven-year record of health system innovation and transformation, leading its ministry of 12 hospitals, multiple other facilities and 15,000 employees in three states. During his tenure, the system has successfully executed a complex merger; improved quality, patient experience, and colleague safety outcomes; and built standard platforms for electronic medical records and system services. SCL Health also has experienced significant growth and improved stewardship results.
Slubowski has 35 years of experience as a health care leader. Before SCL Health, he worked at Trinity Health as president of hospital and health networks for the system. Previously, he held executive leadership positions at other health systems in Michigan and Arizona.
Slubowski is involved deeply in the industry and the community. He is a board member of the Catholic Health Association. He holds fellowships in both the American College of Healthcare Executives and the American College of Medical Practice Executives, and he serves in a variety of regional and national health care professional organizations.
Slubowski received his bachelor's and Master of Business Administration degrees from Wayne State University.
About Trinity Health
Trinity Health is one of the largest multi-institutional Catholic health care delivery systems in the nation, serving diverse communities that include more than 30 million people across 22 states. Trinity Health includes 93 hospitals, as well as 120 continuing care programs that include PACE, senior living facilities, and home care and hospice services. Its continuing care programs provide nearly 2.5 million visits annually. Based in Livonia, Mich., and with annual operating revenues of $16.2 billion and assets of $23.4 billion, the organization returns almost $1 billion to its communities annually in the form of charity care and other community benefit programs. Trinity Health employs about 97,000 full-time employees, including 5,300 employed physicians. Committed to those who are poor and underserved in its communities, Trinity Health is known for its focus on the country's aging population. As a single, unified ministry, the organization is the innovator of Senior Emergency Departments, the largest not-for-profit provider of home health care services — ranked by number of visits — in the nation, as well as the nation's leading provider of PACE (Program of All Inclusive Care for the Elderly) based on the number of available programs. For more information, visit http://www.trinity-health.org. You can also follow @TrinityHealthMI on Twitter.
###