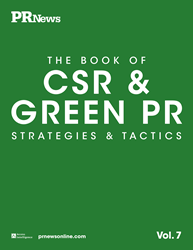 Washington, D.C. (PRWEB) March 17, 2017
In the latest Corporate Social Responsibility (CSR) and Green PR Guidebook, contributors from Time Warner Cable, JetBlue, ACLU, World Cocoa Foundation, and Burson-Marsteller provide the keys to communicating a CSR or green campaign, covering topics such as building a campaign framework, internal communications, sustainability reporting, and tailoring positive messages on social media. This CSR guide provides best practices to communicate the positive relationships that brands build with different communities.
The CSR and Green PR Guidebook is available at http://www.prnewsonline.com/csr-green-pr-guidebook-vol-7
CSR and Green PR Guidebook chapters include:

Cause Marketing & Community Relations
Sustainability Initiatives & Reporting
Employee Communications and CSR
Social Media & CSR
Philanthropy & Human Rights Communications
Stakeholder Communications
Our contributing writers run the gamut of this industry sector. In the 40 articles exploring CSR and green PR included in this book, our authors bring insights from their roles as agency advisors, corporate practitioners, academics and communications executives. The CSR and Green PR Guidebook is available at http://www.prnewsonline.com/csr-green-pr-guidebook-vol-7
To view the full PR Press Store, which has books on social media, PR measurement, writing and more, visit http://www.prnewsonline.com/prpress. Contact Client Services at clientservices(at)accessintel.com with any questions.
About PR News:
The PR News Group at Access Intelligence, LLC is a go-to source that serves the communications and marketing community at corporations, agencies and nonprofits. The PR News group focuses on honing and growing PR practitioners' skills in social media, crisis management, digital PR, measurement, employee relations, media training, CSR and writing through its flagship newsletter, webinars, conferences, awards programs, workshops and guidebooks. With the launch of its weekly newsletter over 70 years ago, PR News has remained dedicated to supporting the growth of communicators all while keeping them abreast of the latest news affecting the industry. For more information, please visit http://www.prnewsonline.com.
###