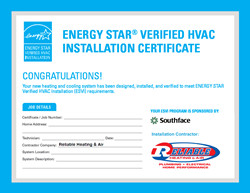 For the first time in history we can verify the efficiency of a customer's HVAC unit remotely.
Kennesaw, GA (PRWEB) March 17, 2017
Reliable Heating & Air, a leading provider of heating and air conditioning, plumbing, electrical and home performance (residential and commercial) service, is proud to offer its customers the ENERGY STAR Verified HVAC Installation (ESVI) program, in partnership with the U.S. Environmental Protection Agency (EPA) and Southface Energy Institute. Reliable's first ESVI certificate was awarded to an Acworth homeowner earlier this year and included upgrading from a traditional maintenance plan to ReliableGuard, a 24/7 HVAC monitoring service.
According to the EPA, the average American household spends more than $2,200 a year on energy bills, with nearly half going to heating and cooling costs. EPA has long-encouraged consumers to look for energy-efficient heating and cooling systems with the ENERGY STAR label to help reduce these costs, while improving home comfort and helping to protect the environment. While purchasing energy-efficient equipment is an important first step, studies indicate that nearly half of residential HVAC equipment is not properly installed, resulting in higher utility costs for consumers, reduced comfort, and potentially reduced system life. Through its newly re-launched ESVI program, EPA is helping consumers ensure that their new HVAC systems are designed and sized properly, airflow is optimized, the proper amount of refrigerant is installed, duct systems are evaluated and improved, and the entire installation is quality verified by an independent third party.
Being a part of the ESVI program is very close to the heart of Reliable Heating & Air's owner, Dan Jape. An HVAC industry veteran since 1978, it is important to Mr. Jape to ensure the quality and excellence of Reliable's installations and his passion has always been to provide the best in class service and product to Georgia homeowners.
"When we first started developing ReliableGuard comfort monitoring three years ago with Emerson Climate Technologies, we had no idea that it would change the entire industry," said Mr. Jape. "I knew that I was signing my customers up for maintenance plans for decades and only seeing their equipment twice a year. The fact is two annual visits are not necessarily required nor is it mandatory to keep a warranty in place. ReliableGuard offers a vast improvement in the way we can provide quality service to our customers. For the first time in history we can verify the efficiency of a customer's HVAC unit remotely. We can respond to potential issues before they manifest into a no-heating or cooling scenario. As an innovator, we take pride in setting the path for the future in HVAC monitoring."
For more information about Reliable Heating & Air visit online at http://www.ReliableAir.com or for more information about the ENERGY STAR ESVI program visit online http://www.EnergyStar.gov/esvi