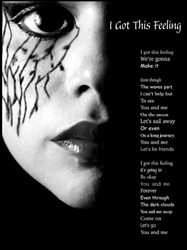 "With Carol's legendary vocals and Moto Blanco's mad production skills, 'I Got This Feeling' developed into a fiery explosion!" -- Jimmy D Robinson
New York, NY (PRWEB) March 17, 2017
Dropping one of Mind Juice Records' most electrifying dance singles yet, Jimmy D Robinson is proving that he has his magic touch firmly planted on the pulse of EDM. Trailblazing poet, songwriter, and producer Jimmy D Robinson proudly unleashes "I Got This Feeling," a poem from his book of poetry ROCK THE WORLD, featuring international songstress Carol Jiani. Pulling out all stops, Robinson collaborated with Grammy-nominated Moto Blanco, one of electronic music's top production teams. Responsible for mega-hit dance tracks from Adele, Jennifer Lopez, and Bravo's Housewives of Beverly Hills star Erika Jayne, Moto Blanco took the reins in the studio with Carol Jiani and helped transform Jimmy D Robinson's "I Got This Feeling" into a musical masterwork for the dance floor.
"Fireworks launched when Carol Jiani hit the studio with Moto Blanco in London," exclaims Jimmy D Robinson. "With Carol's legendary vocals and Moto Blanco's mad production skills, 'I Got This Feeling' developed into a fiery explosion. Dance floors will shake all the way to Dubai and even Los Angeles! Bobby Blanco and Miki Moto truly turned out a phenomenal production with Carol!"
"I Got This Feeling" conveys that assurance one feels when trudging the road of life with the person of their dreams, and knowing everything is going to be alright and work out fine. The song conveys the passion lovers generate to produce euphoria, trust, and that special "oomph!" "I Got This Feeling" will tantalize listener's eardrums with knockout lyrics, fabulous melodies, dope hooks, and entrancing beats. The single release will impact dance floors and radio with extra juicy remixes from Josh Harris, Rare Candy, Danny Phillips & Jay C, and Roger Grey. Never has a groove had the brilliant chemistry that "I Got This Feeling" radiates.
"Working with Carol Jiani on Jimmy's marvelous poetry for 'I Got This Feeling' was a dream come true and an honor. We have loved this diva ever since her sensational 'Hit and Run Lover,' states producing duo Moto Blanco's Bobby Blanco and Miki Moto. "Carol's vocals are fiercer than ever!"
The project also features some amazing new photos of Carol Jiani to go with the release of "I Got This Feeling." Shot on location at Moto Blanco's exclusive studio in London, England, the photo shoot was choreographed by top photographer Ben Joseph. A master in his work behind the lens and in post-production, Joseph brought a new sparkling style to Carol Jiani and helped dazzle the vocal track release with a golden glow.
"I Got This Feeling" will fire up dance floors later this spring! Promotions will be handled by Loren Chaidez Promotions. You can download your digital copies now at iTunes.
About Jimmy D Robinson
Jimmy D Robinson is a record producer, songwriter, poet and lyricist—as well as a world-renowned art dealer. His creative work has earned him a sterling reputation in the world of art, publishing, and music. He has collaborated with many singers such as Carol Jiani, Melba Moore and A Flock of Seagulls.
Jimmy D Robinson Twitter: @jimmydrobinson
Mind Juice Records Twitter: @mindjuicerecord
Poet Jimmy D Robinson on SoundCloud.