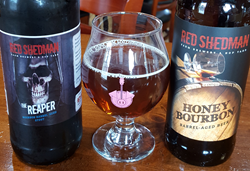 Frederick, Md (PRWEB) March 21, 2017
Join Red Shedman Farm Brewery & Hop Yard in the taproom for their Bourbon Beer Release Party on Saturday, March 25th from 4 - 7 pm. Two bourbon barrel-aged favorites are being released for its customers - Honey Bourbon & The Reaper!
Indulge in "Honey Bourbon" - a golden beer with the sweetness of honey nectar interlaced with the smooth background of Bourbon Reserve and/or choose to taste "The Reaper" - a stout that reaps the benefit of being aged in bourbon barrels for over three months. Tasting Tickets cost $6 per tasting and include a keepsake Red Shedman Snifter Glass (one glass per person).
Local musician, Ben Sherman Guitar, who is classically trained and raised on rock and roll, will play a great set for guests and an extra special food truck will serve treats that pair great with the bourbon taste.
A limited number of 22 oz bottles of The Reaper & Honey Bourbon will be available to purchase and take home from the party (Maximum of 10 bottles per person). Tasting tickets can be purchased at the brewery beginning at 12 pm on the day of the party. Release Party and tastings begin at 4 pm. Tasting tickets are limited and available only in the taproom (4 tasting ticket limit - 6 oz pours only).
Red Shedman Farm Brewery & Hop Yard is located among the rolling hills of Mt. Airy, on over 200 acres of farmland, between Frederick and Baltimore, Maryland. We cultivate several varieties of hops including Cascade, Columbus, Chinook, Nugget and Crystal. Red Shedman beers range from lagers to stouts and an expanding portfolio of hard ciders. Red Shedman Brewery is located at 13601 Glissans Mill Rd Mt. Airy, MD 21771 and is open Wednesday - Thursday, 12 - 5 pm, Friday - Sunday, 12 – 8 pm with live music on Friday and Saturday evenings. For more information, call 301-831-5889 or info(at)redshedman(dot)com.