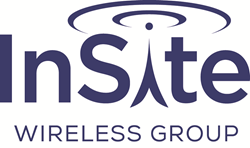 "Bob's operational background and carrier relations will be a significant asset to InSite as we continue to grow."
Alexandria, VA (PRWEB) March 17, 2017
InSite Wireless Group, LLC ("InSite"), one of the largest privately owned tower and wireless infrastructure companies in the U.S., announces that industry veteran Bob Johnson, former Chief Experience Officer at Sprint Nextel, Inc, will join InSite as its Chief Operating Officer.
"We are excited to bring Bob on board. He is truly a wireless pioneer, with 35 years of experience," said David E. Weisman, President and CEO of InSite. "Bob's operational background and carrier relations will be a significant asset to InSite as we continue to grow."
In carrying out his new responsibilities, Johnson will be based out of InSite's headquarters office in Alexandria, Virginia.
About Bob Johnson
Bob Johnson was appointed InSite's COO in 2017, and is responsible for the Tower and DAS Business Units (including sales, engineering and operations), Marketing and Information Technology. Before joining InSite, Bob spent 18 years at Sprint / Nextel, where he was most recently Chief Experience Officer responsible for supporting a base of 55M customers and $35B in annual revenue. Prior to this, Bob was President- Sprint Retail, Chief Service and Information Technology Officer and held a variety of senior executive roles in operations, information technology, customer service and consumer and enterprise sales.
Bob previously held senior leadership positions at Bell Atlantic / Verizon for 17 years – including joint venture roles as EVP/COO for Telezone Corporation and President of the Midwest and the Eastern regions of PrimeCo. Bob received his BS, Business/Marketing from the University of Maryland and serves on the Advisory Board of the Robert H. Smith School of Business.
About InSite Wireless Group, LLC
InSite Wireless Group, LLC develops, owns, operates and manages communications wireless infrastructure facilities primarily for the wireless and broadcast industries. InSite's tower division is one of the largest privately owned U.S. tower companies and develops, manages, owns, and operates approximately 1,500 telecommunications towers and sites for wireless carriers across the United States, Puerto Rico, the U.S. Virgin Islands, Canada, and Australia. InSite's distributed antenna system (DAS) and small cell division specializes in the design, installation, operation, and maintenance of shared wireless infrastructure solutions that enhance the quality and capacity of wireless voice and data services in public facilities and complex environments. InSite has developed and currently operates more than 23 projects across the United States in convention centers, casinos, airports, sports stadiums, and transit systems like the Boston MBTA Subway and the Los Angeles County Metro. InSite also owns a controlling interest in Telecom Lease Advisors (TLA), one of the leading land-under-cell-tower acquisition companies in the United States. More information on InSite's business can be found at http://www.insitewireless.com.