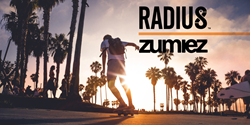 The local Zumiez store experience is central to our success. Each store experience is a nuanced reflection of the local community, which is of great importance to our teen customer.
Las Vegas, Nevada (PRWEB) March 21, 2017
Retail Tech start-up, Radius8, announced today that Zumiez, Inc. a leading specialty retailer of action sports related apparel, footwear, equipment and accessories, has launched with the Radius8 cloud platform that is powering a "contextualized" online shopping experience tapping into local data across their 650 brick and mortar stores. Customers who have deployed Radius8 have seen 50-75% higher than average conversion rates, and an uplift in average order value of over 25% for Radius8, locally powered conversions.
The Radius8 platform provides a locally merchandised online experience around the radius of each physical store. By layering in shopper geo-location, store specific inventory feeds, and intelligent analytics based on local online browsing behavior, every store has its own unique digital presence that is reflective of the trends and dynamics of that store's local market.
"Context is about how we relate to everything around us and what influences the choices we make," said Radius8 co-founder and CEO Sandeep Bhanote. "In retail, context is especially important because it shortens the buying cycle by providing relevant, location specific information and trends that matter to the consumer as they are shopping. For example, letting the merchant share what are the hottest jeans being sold in a particular store or announcing a flash sale on rain boots because the weekend calls for rainy weather are ways to heighten engagement whether customers decide to purchase online or in-store."
The Radius8 solution will support Zumiez's focus on cultivating a sense of community in their local stores as the retailer aims to emphasize a tailored experience for each store and the customers who shop there.
"The local Zumiez store experience is central to our success. Each store experience is a nuanced reflection of the local community, which is of great importance to our teen customer. We encourage and embrace each local market in a way that makes shopping with us such an authentic, relevant and fun experience," said Cathy Barnett, Director of Digital & Customer Experience for Zumiez.
"Radius8 will further enable Zumiez's customers in every corner of the U.S. to engage with their unique local store trends, providing a relevant curation that is customized to their trade area. The ability to market and merchandise intelligently at the hyper-local contextual level will link the physical and digital experiences for a customer that sees no boundaries between the online and offline world."
"Until now, there's been no easy solution for merchants to digitally collect, merge and effortlessly communicate all these great market specific inputs around the physical store," adds Bhanote. "We are taking a different and relevant approach to increase conversion and drive store traffic."
About Radius8:
Radius8 revolutionizes retailers' ability to digitally merchandise inventory and communicate local trends and events at the individual store level. The R8 Cloud platform is the engine to layer in local context and intelligence to create a unique online presence for each physical store location ultimately driving both online and in-store conversions. Headquartered in Princeton, NJ, Radius8 was founded in early 2016 by a team of retail technology experts with the goal of transforming the role of the store in today's tumultuous retail landscape. Radius8 is funded by Brooklyn Bridge Ventures with participation by Commerce Ventures, Newark Venture Partners Tigerlabs, and ARC Angel Fund.
For more information about Radius8, please visit http://www.radius8.com