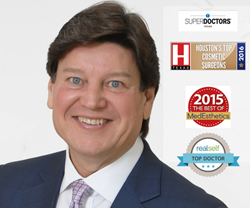 Houston, TX (PRWEB) March 17, 2017
Vitenas Cosmetic Surgery is excited to announce that Paul Vitenas, Jr. MD, FACS has been named part of the Texas Super Doctors ® for 2016. As one of the medical field's most prestigious titles, only about 5% of the state's physicians are given this award. The 2016 nomination represents the fourth year that Dr. Vitenas has been named part of the distinguished Super Doctors.
The list of Texas Super Doctors is put together annually, following a rigorous nomination process conducted by the national research division of MSP Communications in Minneapolis. The process includes valuable peer nominations, a detailed independent research report, and a final, Blue Ribbon Panel review of the candidate.
Texas Super Doctors is a unique award, designed to benefit the sophisticated consumer. The group of outstanding physicians represent more than 40 medical specialties. Each has achieved a high level of respect from their peers, with notable professional achievements. Those named in this nationwide group of doctors are widely known for providing exceptional patient care and satisfying results in a safe environment.
Through his distinguished career, Dr. Vitenas has been the recipient of numerous recognitions and awards, including being named as the Best Single Physician Practice, Top Ten Plastic Surgeons in Middle America, a Texas Super Doctor and Angie's List Super Service Award. Each title is an honor that Dr. Vitenas gladly shares with his dedicated team of aesthetic professionals. The well-trained, professional staff is a vital component to happy patients, which can be seen in the more than 2,000 positive reviews and testimonials found for the practice on Google and RealSelf.
Dr. Vitenas strives to ensure each of his patients will achieve proportionate, natural-looking results that enhance their organic features. This is a challenge that requires continual growth as a surgeon and consistently adapting to patient needs. Dr. Vitenas explains, "Plastic Surgery has grown so much in the last 30 years, and it has become so technically complicated in each of the different disciplines. You cannot be a master at all of the subspecialties. My suggestion is, figure out what it is that you want to do and never stop trying to be better." Dr. Vitenas goes further by saying, "To be a good aesthetic plastic surgeon you have to have the eye of an artist and the hands of a watchmaker. It is a truly unique skill set."
Vitenas Cosmetic Surgery was founded in 1990 by Dr. Vitenas. Over the years, the practice has grown to be one of the largest in the state, encompassing a wide range of surgical techniques and cutting-edge noninvasive services. In addition to the peaceful treatment rooms of Vitenas Cosmetic Surgery, Dr. Vitenas' practice boasts two technologically advanced surgical suites, five well-appointed recovery bays, and an optional, home-like, overnight recovery room. The ground floor of his newly-built building is dedicated to Mirror Mirror Beauty Boutique, Houston's top provider of nonsurgical treatments such as Botox Cosmetic, soft tissue fillers, Ultherapy, and CoolSculpting.
Dr. Paul Vitenas is an alumnus of Tulane University Medical School in New Orleans. Board Certified by the American Board of Plastic Surgery, Dr. Vitenas brings close to 30 years of experience to every patient. Understanding the important role Vitenas Cosmetic Surgery plays in the local community, Dr. Vitenas is an active supporter of local nonprofit groups including SillyBox and the Houston United Way.
Vitenas Cosmetic Surgery salutes all of the doctors named in the Super Doctors for 2016. Look for the full list in the special adverting section of the December 2016 TEXAS MONTHLY magazine, or go to the Super Doctors website for more information on the nomination process. Contact Vitenas Cosmetic Surgery at 281.484.0088 with questions regarding the many, trusted surgical and noninvasive procedures available. Consultations with Dr. Vitenas are complimentary.