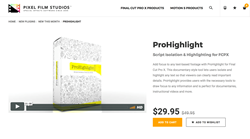 This is a great new plugin that allows users to zoom in and highlight text.
Aliso Viejo, CA (PRWEB) March 17, 2017
Add focus to any text-based footage with ProHighlight for Final Cut Pro X. This documentary style tool lets users isolate and highlight any text so that viewers can clearly read important details. ProHighlight provides users with the necessary tools to draw focus to any information and is perfect for documentaries, instructional videos and more.
ProHighlight includes two main preset types. The first type is a simple highlighting tool that zooms into footage as segments of text are being highlighted. The second type of scene includes a masking tool and allows users to mask out any section of text. The isolated text zooms forward in 3D space as the background recedes and darkens. Finally, the highlights animate in and the scene ends by animating the text back into place.
The masking presets in ProHighlight feature a built-in masking tool that allows users to expertly cut-out subject matter in any shape with the click of a mouse. Start by clicking on the screen to create points to surround the subject. Double-click a point to change its interpolation from linear to curved. "Command + Double-click" to delete a point. Double-click the line to add a point. Pixel Film Studios' built-in masking tool makes it easy to get a crispy cut-out.
ProHighlight's presets include variations in duration and number of highlights. Up to 5 highlights are included and users can place each one using built-in on-screen controls. Place each highlight over a segment of important text information. Then, choose whether the highlight fades, scales in or is pre-highlighted. Finally, choose the color and blend mode of the highlight to stylize.
Add extra camera movement to make scenes more dynamic by adjusting the zooming and panning features. Adjust how much the cut-out zooms forward as well as how far the original source zooms back. Users can add panning to the scene as well. Once the duration has finished, the cut-out will fall back into its original place.
Established in 2006, Aliso Viejo, California-based Pixel Film Studios is an innovative developer of visual effects tools for the post-production and broadcast community. Their products are integrated with popular non-linear editing and compositing products from Apple FCPX. Apple, the Apple logo, Mac OS X, and Macintosh are registered trademarks of Apple Inc. in the U.S. and/or other countries. All other trademarks and trade names are the property of their respective owners.