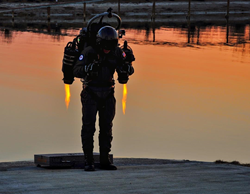 We believe this sale is the definitive first step on the road to widely accessible Personal Flight Mobility
Van Nuys, CA (PRWEB) March 22, 2017
JetPack Aviation has announced the sale and delivery of the world's first commercial jetpack. The company, which designs and manufactures small, turbine powered VTOL jetpacks for military, industrial, and individual customers, is now offering its JB10 duel engine model at the retail price of $250,000. Currently under contract with the US military, JPA is also receiving international government inquiries.
Company CEO David Mayman said, "We believe this sale is the definitive first step on the road to widely accessible Personal Flight Mobility. Whether we are enabling the extraction of Special Forces soldiers, moving emergency medics from hospital to disaster site, or commuters from home to office – JPA is focused on a wide range of vertical takeoff and landing (VTOL) transportation solutions. Our JB10 is designed to be a proof-of-concept and we are already working on several other long endurance aircraft including fully electric systems".
JetPack Aviation made its first public demonstration flight around the Statue of Liberty in 2015 with full FAA (Federal Aviation Administration) authorization. Subsequent public flights were held in London, Monaco, and Los Angeles. JPA is now offering sponsored promotional flights for corporations and events.
Said Principal Designer Nelson Tyler, "People have dreamed of individual flight for as long as we have looked to the sky. Now, after decades of work and thanks to our extraordinarily talented staff, the dream of personal flight is a solid reality.
And it's available for sale today."
Small investors wishing to be part of jetpack history are being accepted through March 31, 2017 via an equity crowdfunding campaign.