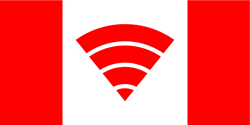 Most of Tanaza's success is due to its vendor-agnostic approach
(PRWEB) March 20, 2017
Tanaza, the Wi-Fi cloud management company, increased its business in Canada in 2016, by partnering with more than 15 Wi-Fi hotspot providers, with its most strategic partners in Ontario and Quebec. At the same time, Tanaza also experienced incredible growth at a global level, doubling its number of authorized Reseller Partners in less than one year.
Tanaza participates in the strong growth of the Canadian Wi-Fi market. Data from the Canadian Radio-Television and Telecommunication Commission (CRTC) shows that wireless service providers have increased the number of public free and paid Wi-Fi hotspots across the country from 14.000 by the end of 2014, to over 21.000 by the end of 2015. More recent data confirmed that the growth trend in the Wi-Fi offering is set to continue at a very rapid rate.
In 2016, Tanaza, together with its partners, established more than 100 deployments in Quebec City in the retail and food sector.
Some of Tanaza's deployments include networks for bank offices and ATMs, restaurants, touristic places and education institutes. Tanaza meets the needs of small and medium businesses and their partners, by providing them with an all-in-one powerful software for cloud-based Wi-Fi management and social hotspots.
One of the main advantages of Tanaza's offering is the possibility to empower low-cost devices from different brands with Tanaza's firmware, actually adding new features to them without any additional cost. "Most of Tanaza's success is due to its vendor-agnostic approach. Tanaza allows any solution provider to free himself from the high costs related to mono-vendor hardware and software. With Tanaza, any network administrator can choose the access point that works best for their Wi-Fi network, whether it's from TP-Link, D-Link, Ubiquiti or Netgear." declares Sebastiano Bertani, Tanaza's CEO.
For this and other reasons, many of Tanaza's partners decided to switch from Enterprise-grade hardware and mono-vendor software to Tanaza's more flexible and multi-vendor SaaS offering.