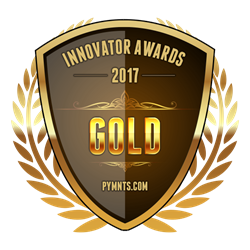 Boston, MA (PRWEB) March 20, 2017
The prestigious Innovator Awards honored ID.me with a Gold medal in Most Disruptive, one of three winners to compete for the Gold, Silver and Bronze medals at the PYMNTS' Innovator Awards Dinner on March 16th, which marked the conclusion of the Innovation Project 2017.
Six finalists across 15 categories competed for Gold, Silver and Bronze medals. Some of the categories included Best B2B Innovation, Most Innovative Payments Player, Best Debit Innovation, Best Merchant Solution, Most Disruptive Innovation and more.
"The PYMNTS Innovation Awards celebrate the companies, and men and women, who have made the most significant contributions to innovation in payments and commerce in the past, and the entrepreneurs who have the most promising solutions for driving innovation forward," according to Karen Webster, CEO of PYMNTS.com. "I'm very honored to be able to recognize these contributions at IP 2017."
The Awards Dinner held at Fenway Park was emceed by Jason Alexander, who's known by millions for his role as George Constanza on "Seinfeld" and, of course, for making the "fat wallet" famous. This year, new and seasoned payment executives alike had a chance to interact with him at a dinner for delegates of the fifth anniversary of the Innovation Project. Other awards included the PYMNTS Matchmakers Award, Catalyst Award, Mike Duffy Award, the Women Driving Innovation in Payments and the Lifetime Achievement Award.
The Innovation Project brings together the most senior executives and thought leaders in payments, commerce and retail each year for two days of closed door, off-the-record discussions held at Memorial Hall on the campus of Harvard University in Cambridge, MA.* This year, this highly unique and high-powered forum shared their insights on where they're placing their bets on the future of payments innovation as they look ahead to the next decade.
About ID.me
ID.me accelerates the secure verification of an applicant's identity to just 3.5 minutes. By leveraging remote verification of physical IDs, MNO data, along with fraud detection algorithms and a suite of compliance checks including KYC, AML/CFT, and SCRA, ID.me's federally accredited Identity Gateway makes account opening faster, more efficient and more secure.
*The Innovation Project® and PYMNTS.com® are not affiliated with Harvard University, nor is the Innovation Project® 2017 a Harvard University program or activity.