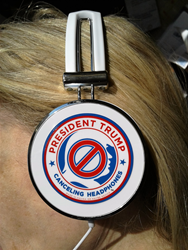 The minute I put these on, I regained my personal certainty that my opinion will be known. Plus, no more unseemly fist fights while just grabbing a Coffee. I am one happy Protestor.
RENO, NEVADA (PRWEB) March 30, 2017
This is, without question, the most brilliant invention anyone's ever come up with in the history of the world. In comparison, Edison's electric light bulb was a joke. A very. bad. joke. What is about to be unveiled is an invention that will change your life: Brainaholic Maniacs, Inc. presents President Trump Canceling Headphones. Put them on and you will be making the most brilliant, intelligent political statement ever, and you don't even have to punch anyone in the face to make it.
Just like the YUGELY popular Noise Canceling Headphones, these President Trump Canceling Headphones are of the highest quality known to man. And to woman. It's like building a great, big, beautiful wall around your head that keeps out unwanted noise. At the same time, the unique headphones quietly and smartly make a peaceful protest statement against the current President. It's become the protest without arrest. Also with these headphones, they work just fine when listening to many audio sources, using the attached standard wired 3.5 mm connection. It's amazing. Those who wear the President Trump Canceling Headphones will be the envy of anyone who sees them on the jogging path, in the coffee shop or at public gatherings. Wherever the hell they're worn. Purportedly, even President Trump supporters can wear them to walk without fear in San Francisco, Chicago, NYC and other dangerous places for Trump supporters providing a built in "blend". A real boon to the return of civility and peaceful discourse on both sides of the aisle while maintaining a voice to be reckoned with.
Brainaholic Maniacs Inc. are the geniuses who created not just this amazing product, but many other great, great products, including 42,000,000 children's records (and that is no exaggeration). And now they're Making Themselves Great Again! "Sold as a Novelty...Worn as a Statement", the President Trump Canceling Headphones cost only $24.95, and are also available in 25 Decibel Reduction EPA Rated Ear Protection Muffs, for just $34.95. Get them for yourself or as a perfect gift for that Never Trumper in your life. To order, visit https://www.cancelpreztrump.com And please use responsibly by following our Recommended Use advice.