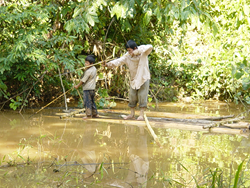 Is it realistic for all of us to live as the Tsimane do? No, but it clearly demonstrates how we live has a profound impact on our heart health and we should strive to adopt these healthy lifestyle choices to the degree possible for each of us
Kansas City, Mo. (PRWEB) March 17, 2017
Many of us are familiar with the traditional coronary risk factors – smoking, hypertension, high cholesterol, and sedentary lifestyle. And we have a general idea of what we ought to eat. But, if you avoid rich food and rigorously exercise your whole life, can you truly avoid virtually any coronary heart disease?
Hoping to determine once and for all whether lifestyle factors, practiced in the extreme, really make all of the difference and whether hunter-gatherers really had healthier hearts, a group of cardiologists, anthropologists and medical researchers traveled to the remote Amazon to study a tribe living almost as man did thousands of years ago. The Tsimane Health and Life History Project (THLHP) team included scientists from institutions across the country, including Randall Thompson, M.D., from Saint Luke's Mid America Heart Institute in Kansas City.
Beginning in 2002, the THLHP team studied a tribe living in the remote Bolivian Amazon who have a lifestyle thought to be very similar to that of pre-modern humans – those living before urbanization and specialization. The Tsimane Amerindians fish, hunt, grow a few crops, and forage food from the Amazon region. They are also extremely active in their daily lives. They are moving almost all of their waking hours and walk between 15,000 and 20,000 steps per day virtually their entire adult lives. They have low cholesterol, no diabetes, minimal smoking and minimal hypertension. However, they do have a high number of respiratory infections, including tuberculosis, and many are inflicted with intestinal parasites. This finding is significant as researchers previously believed inflammation caused by disease or illness contributed to coronary disease.
The THLHP team studied a representative sample of over 700 Tsimane adults using coronary CT calcium scoring. These scans detect calcified plaque even at early stages. Despite a high rate of infections and inflammation, the Tsimane adults have much less coronary calcium than any population in recorded history previously studied. The amount of calcium in the older adults matched that of North Americans who are about 30 years younger.
"These findings are very significant," says Randall Thompson, M.D., Saint Luke's Mid America Heart Institute cardiologist and one of the organizers of the study. "Put another way, the arteries of the Tsimane are 25-30 years younger than the arteries of sedentary urbanites and the data also shows that the Tsimane arteries are aging at a much slower rate."
In addition to an extremely active lifestyle, the Tsimane diet differs dramatically from the traditional American diet. The team estimates that fats make up 14% of the Tsimane diet, compared to about 34% in the United States. They consume very little added sugar and essentially no transfats or processed food. However, the Tsimane diet is not low sodium as they use salt to preserve their food.
"The findings from this study of the Tsimane people clearly shows us that preventing coronary disease is theoretically completely within our own control," says Thompson. "Is it easy or realistic for all of us to live as the Tsimane do? No, but it clearly demonstrates how we live has a profound impact on our heart health and we should strive to adopt these healthy lifestyle choices to the degree possible for each of us."
This study is being presented at the American College of Cardiology meeting on March 17th with simultaneous publication in The Lancet.
A link to the scientific findings in the Lancet can be found at: http://www.thelancet.com/journals/lancet/article/PIIS0140-6736(17)30752-3/fulltext?elsca1=tlpr
About Saint Luke's Mid America Heart Institute
Saint Luke's Mid America Heart Institute, a member of Saint Luke's Health System and a teaching affiliate of the University of Missouri-Kansas City, is one of the preeminent cardiovascular programs in the country. Its legacy of innovation began more than 35 years ago when it opened as the nation's first heart hospital. Since then, the Heart Institute has earned a world-wide reputation for excellence in the treatment of heart disease, including interventional cardiology, cardiovascular surgery, imaging, heart failure, transplant, heart disease prevention, women's heart disease, electrophysiology, outcomes research, and health economics. With a team of 85 board certified cardiovascular experts, the Heart Institute offers one of the largest heart failure/heart transplant programs in the country, has the largest experience with transcatheter aortic valve replacement in the Midwest, and is a global teaching site for the newest approaches to opening challenging blocked arteries using minimally invasive techniques.