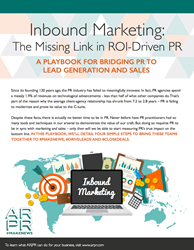 The future of PR will be driven by agencies that are innovative enough to demonstrate and prove the value of all marketing and PR initiatives – from headline to sale.
Atlanta, GA (PRWEB) March 20, 2017
Public relations and integrated communications agency, AR|PR, today announced the rapid growth of its lead generation and marketing automation portfolio, highlighted by more than 60 percent of its clients now using the service offering since its launch in February 2016. In just one year, AR|PR has successfully planned, implemented and monitored numerous inbound marketing, marketing automation and digital advertising initiatives that have resulted in above-average conversions and triggered sales.
Highlights include:

Mission critical client FNTS exceeded its year-over-year conversion growth by 23 percent in just 10 months and earned double-digit conversion rates on its content.
Enterprise mobility client PowWow Mobile tapped AR|PR to manage its robust Google Adwords, retargeting, video ads and other lead gen initiatives. In the first month alone, the AdWords campaigns garnered 2,000 clicks and an above average CTR of 2.41 percent.
YouTube ads for cybersecurity client IRONSCALES at the RSA Conference generated 11,500 impressions, 1900 views and a view rate of nearly 17 percent, well above what Google considers good results.
"The future of PR will be driven by agencies that are innovative enough to demonstrate and prove the value of all marketing and PR initiatives – from headline to sale," said Renee Spurlin, AR|PR's vice president of analytics and digital marketing. "Every AR|PR employee, from our seasoned media relations specialists to our digital marketing gurus and everyone in between, is fueled with a passion to link traditional methods to hard ROI using modern marketing tools and technical strategies. There are no sales goals that scare this team, and that is truly unique of a PR agency."
AR|PR's demand gen services include persona identification, inbound marketing, lead nurturing and automation, and paid social and digital ads. More than half of AR|PR's team hold digital marketing certifications, including HubSpot's inbound and email marketing certifications and Google AdWords and Analytics certifications.
New Hires
Today AR|PR also announced the addition of two hires to support growth in both the agency's digital and traditional PR services. Erika Scholz joins AR|PR's New Orleans office as a senior account manager. A seasoned tech PR pro, Erika will lead and support accounts in the agency's Health IT, mobility and ecosystem practice groups. Additionally, Nick Holland joins AR|PR's Atlanta office as a junior account coordinator. A former Oracle software salesperson and a Google AdWords certified professional, Nick's technical and digital marketing expertise will be spread across all practice groups and in support of company marketing.
To learn more about AR|PR's demand gen and marketing automation capabilities, download our new inbound marketing whitepaper here. For more information on AR|PR, visit http://www.arpr.com and follow @ar__pr on Twitter.
About AR|PR 
AR|PR is a results-driven public relations and integrated communications agency for technology leaders. As one of the nation's fastest growing technology PR firms, AR|PR was named the 2016 National Tech Public Relations Agency of the Year by Bulldog Reporter and a 2016 TOP Places to Work in PR by PR News. With a passion for telling technology and entrepreneurial stories, AR|PR cultivates strategic partnerships with its cybersecurity, mission critical, health IT, mobility and Software-as-a-Service (SaaS) clients. From high-growth startups to publicly traded enterprises, AR|PR helps companies within these industries cut through the noise and clutter to #makenews and #driveleads. For more information on the award-winning agency, visit its offices in Atlanta and New Orleans and online at arpr.com and @AR__PR.