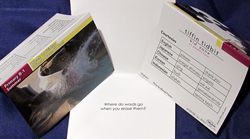 These cards created an opportunity to sit down and talk with each of my children about a topic that interested us both and kept us both engaged.
Media, PA (PRWEB) March 18, 2017
When Kat Rowan was raising her two daughters, she became frustrated with their one-word answers to her questions after school each day.
Kat: How was your day at school?
Daughter: Fine.
Kat: Anything exciting happen today?
Daughter: No.
In an effort to spark conversation, Kat began writing notes to each daughter that she would place in their lunch boxes each day and discuss upon their return home.
"I know how hectic daily life can get and how much technology distracts us from the limited time we have with our children," said Rowan. "These cards created an opportunity to sit down and talk with each of my children about a topic that interested us both and kept us both engaged. Through these conversations, we became closer and I learned a lot more about their thoughts, dreams, and concerns. I watched my girls develop creative and critical thinking skills simply because there was no judgment; no right or wrong answers. It was all about our time together and not about an assignment to be graded."
This message is particularly relevant during March, which is National Parenting Awareness Month.
With the encouragement (and requests) of other parents, educators, and mental health professionals, Rowan turned her children's carefully saved cards into a commercial product. Her stick-figure drawings on construction paper became beautiful photographs that develop spatial thinking skills; plain card backs became meticulously researched fun and educational facts. The contents inside remained as they always had been – thought-provoking questions designed to encourage parents and their children to talk.
Today, Kat's company, TiffinTalk Inc, offers 4160 different cards for children in preschool through high school. TiffinTalk Parent – Child & Teen conversation cards come in seasonal, custom-designed boxed sets with 65 daily cards arranged in 13 themed weeks. Each card front features puzzle pieces revealing a completed image over the course of the week to engage the child's curiosity, while the card back offers a fun fact ("tiffin tidbit") for older children or an activity ("tiffin treat") for younger kids. The card's inside is the focus, presenting a key question on topics that are silly, serious, thoughtful or imaginative, with space for a parent to include a personal note or reminder before the card is slipped in with a child's lunch or tucked into their backpack.
Reviewed by child development and mental health professionals, educators and – most importantly – parents, TiffinTalk cards are designed to prompt the return of focused time together without the distraction of technology while encouraging creative thinking through thought-provoking, open-ended questions.
Cards can be ordered online for $60 per seasonal box of 65 cards through this link. Refill sets sell for less.
In addition to cards for parents and their children, TiffinTalk also offers Talking Across Generations cards for senior parents and adult children as well as FindingYourVoice cards for mental health professionals (including guidance counselors!) and their clients. Coming Summer 2017, TiffinTalk will release its couples line, Heart2Heart.
For more information about TiffinTalk and to purchase cards, please visit http://www.tiffintalk.com
# # #