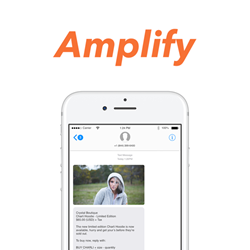 Mobile commerce through Amplify's MMS/SMS marketing and in-text payments tools provides immediate communication and sales between leading brands and their customers.
Los Angeles, CA (PRWEB) March 21, 2017
iQX Corp (the "Company") is pleased to announce the release of its Shopify integration, and several new features and functions, for its Amplify text message and in-text payments for mobile commerce platform.
Shopify Integration
Online stores powered by Shopify can now integrate Amplify's text message mobile commerce tools through a simple sign-in authentication to their Shopify account. This new integration enables Shopify stores to sell any of their products through Amplify's unique and powerful in-text sales and payments channel to customers that opt-in to receive text marketing messages from the store. Customers can complete purchases of Shopify store products inside their smartphone's native text application without having to leave the text conversation with the store. Coupled with Amplify's highly intuitive and in-depth customer database, which reflects all store products, customer purchase history and demographics, Shopify store owners can now easily create and manage highly focused customizable MMS/SMS text marketing and sales campaigns to specific customer segments they define. As customers interact with Shopify stores through Amplify's in-text sales and payments channel, additional data points are gathered that expand demographics to provide greater insights for Shopify store owners to better understand where their brand captures the highest returns. 
Shopify powered online stores can add the Amplify app to their account by visiting https://apps.shopify.com/amplify, clicking on the GET button and then clicking on the INSTALL button.
All new Amplify user accounts receive 100 free Amplify credits to get started. To learn more about Amplify, please visit http://www.iqxamplify.com.
Amplify API
Software developers can now access the Amplify API through their Amplify user account. Amplify's API has been designed to enable eCommerce store frameworks and/or event ticketing platforms to easily integrate into Amplify's text message mobile commerce engine. All the necessary end points to pass through all inventory via Amplify, and to receive back orders from customer purchases through Amplify, are available through the Amplify API. Additionally, software developers are now able to create new products on top of Amplify and have an immediate go-to-market sales tool using Amplify's dashboard with its many other features and functions that enable powerful in-text inventory presentment and payments to be offered for any number of creatively useful software platforms and apps. To learn more about the Amplify API, please visit https://apidoc.iqxamplify.com.  
Amplify Mobile Number Capture Widget
Amplify now provides users with a mobile phone number capture widget inside their Amplify user account in the Widgets page. This feature will help Amplify users facilitate the capture of mobile phone numbers for existing and new customers. The Amplify mobile number capture widget can be placed into any website, blog, landing page, page pop-up, etc. The Amplify user simply copies the Widget code snippet and pastes it in the form where customers are asked to submit their mobile phone numbers. Through that flexibility, marketers can distribute the widget's location, pointing customers to the submission form via any of the marketing channels they are already using (eg. Facebook, Twitter, email, etc.). When a customer submits their mobile number, they immediately appear in the Amplify user's customer database, and automatically receive a text notification asking them to opt-in to confirm that they would like to receive text marketing messages. When the customer reply's YES, they are whitelisted to that Amplify user account and can immediately complete in-text purchase offerings sent to them from that Amplify user account.
VIP Pass
Amplify can now be integrated with VIP Pass, allowing Amplify users to offer upgrades and exclusive experiences to already ticketed events. VIP Pass is an event creation and ticket inventory tool developed by iQX, and is available inside Amplify Integrations. VIP Pass allows marketers the ability to easily create and manage inventory to sell experience upgrades to attendees of already ticketed events for meet and greets, VIP specials, after parties, behind the velvet rope experiences, etc. through the power of Amplify's in-text payments engine. Coupled with Amplify Scanner (available soon on the Apple App Store and Google Play Store), seamless event inventory creation, marketing and attendee management, from inception through to scanning attendees at events, becomes immediately available. 
Company Founder and CEO, Sacha Spindler stated, "Following up on the recent release of our Amplify text message mobile commerce platform with these new features and integrations is going to help iQX attract a wider range of customers to the Amplify platform. We are very excited about in-text payments for merchandise and ticketing as a significant breakthrough in mobile commerce. Text marketing and sales within the text conversation is an entirely new marketing channel that provides extraordinary potential for the highest open and conversion rates than any other channel currently available, and the ability to immediately create intimate and personalized communication between brand leaders and their customers. Going forward, we will continue to regularly release additional eCommerce store and payment platform integrations to make Amplify as seamless a tool possible to enable marketers with the ability to easily capitalize on the power of in-text payments through mobile commerce."
For more information about iQX Amplify, please go to http://www.iqxamplify.com.
About iQX Corp.
iQX Corp. is a Los Angeles based technology company that develops B2B cloud software. For more information about iQX Corp., please visit http://www.iqxcorp.com. Email info(at)iqxcorp(dot)com. Call toll free at +1 (844) 399-6400. Follow us on Twitter @iqxcorp. Connect with us on LinkedIn at http://bit.ly/2nsSQIz
Forward Looking Statements
This press release contains important information about our "forward-looking statements" – that is, statements related to future, not past, events. In this context, forward-looking statements often address our expected future business and financial performance and financial condition, and often contain words such as "expect," "anticipate," "intend," "plan," "believe," "seek," "see," "will," "would," or "target."
Forward-looking statements by their nature address matters that are, to different degrees, uncertain, such as statements about our announced plan to release new software products.
For us, particular uncertainties that could cause our actual results to be materially different than those expressed in our forward-looking statements include:

our ability to maintain the necessary finances to ensure that we have the working capital available to invest into the development of additional payment platform and eCommerce store framework integrations for Amplify;
our ability to maintain the necessary finances to ensure that we have the working capital necessary to continue marketing efforts;
our ability to have the resources necessary to service our software products as we attempt to scale our operations;
our ability to deliver new software products and updates on a regular basis.