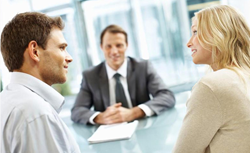 Although it's tempting to offer assistance in these situations, it's important that consumers understand the financial realities and risks of cosigning a loan.
Boston, MA (PRWEB) March 21, 2017
When a consumer cosigns a loan, they are being asked to assume a risk that the professional lender won't take on alone – due to the fact that the borrower can't meet traditional lending criteria. In an attempt to educate consumers, national nonprofit American Consumer Credit Counseling has created a list of things to consider before cosigning a loan.
"Despite the risks, there are scenarios where a person may want to cosign a loan – such as to help a child or a friend in need," said Steve Trumble, President and CEO of American Consumer Credit Counseling, which is based in Newton, MA. "Although it's tempting to offer assistance in these situations, it's important that consumers understand the financial realities and risks of cosigning a loan. For example, if your friend or relative misses a payment, the lender can immediately collect the payments from you without first pursing the borrower."
According to a recent survey by CreditCards.com, 38 percent of cosigners had to pay some or the entire loan or credit card bill because the primary borrower was unable to do so. Of the respondents, 28 percent experienced a drop in their credit score because of the person they cosigned for was late with their payment or did not pay at all.
In an effort to help educate consumers about cosigning loans (http://www.consumercredit.com/financial-education/credit/credit-education/co-signing-a-loan/), American Consumer Credit Counseling has provided important information that should be considered.

Be sure you can afford to pay the loan. If you're asked to pay and can't, you could be sued or your credit rating could be damaged.
Even if you're not asked to repay the debt, your liability for the loan may keep you from getting other credit because creditors will consider the cosigned loan as one of your obligations.
Before you pledge property to secure the loan, such as your car or furniture, make sure you understand the consequences. If the borrower defaults, you could lose these items.
Ask the lender to calculate the amount of money you might owe. The lender isn't required to do this, but may if asked. You also may be able to negotiate the specific terms of your obligation. For example, you may want to limit your liability to the principal on the loan, and not include late charges, court costs, or attorneys' fees. In this case, ask the lender to include a statement in the contract similar to: "The cosigner will be responsible only for the principal balance on this loan at the time of default."
Ask the lender to agree, in writing, to notify you if the borrower misses a payment. That will give you time to deal with the problem or make back payments without having to repay the entire amount immediately.
Make sure you get copies of all important papers, such as the loan contract, the Truth-in-Lending Disclosure Statement, and warranties — if you're cosigning for a purchase. You may need these documents if there's a dispute between the borrower and the seller. The lender is not required to give you these papers; you may have to get copies from the borrower.
Check your state law for additional cosigner rights.
ACCC is a 501(c)3 organization that provides free credit counseling, bankruptcy counseling, and housing counseling to consumers nationwide in need of financial literacy education and money management. For more information, contact ACCC:
For credit counseling, call 800-769-3571
For bankruptcy counseling, call 866-826-6924
For housing counseling, call 866-826-7180
Or visit us online at http://www.ConsumerCredit.com
About American Consumer Credit Counseling
American Consumer Credit Counseling (ACCC) is a nonprofit credit counseling 501(c)(3) organization dedicated to empowering consumers to achieve financial management through credit counseling, debt management, bankruptcy counseling, housing counseling, student loan counseling and financial education concerning debt solutions. In order to help consumers reach their goal of debt relief, ACCC provides a range of free consumer personal finance resources on a variety of topics including budgeting, credit and debt management, student loan assistance, youth and money, homeownership, identity theft, senior living and retirement. Consumers can use ACCC's worksheets, videos, calculators, and blog articles to make the best possible decisions regarding their financial future. ACCC holds an A+ rating with the Better Business Bureau and is a member of the National Foundation for Credit Counseling® (NFCC®). For more information or to access free financial education resources, log on to ConsumerCredit.com or visit http://www.consumercredit.com/financial-education.aspx