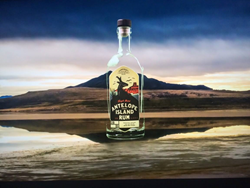 Fresh spring water "is something that sets us apart."
Denver, CO (PRWEB) March 20, 2017
Antelope Island Rum was awarded a Silver Medal at the prestigious Denver International Spirits Competition. The Denver International Spirits Competition (DISC) is the region's largest double blind professional spirits competition. The DISC ranks amongst along with only 3 other International spirit competitions worldwide (San Francisco, London, New York).
Dented Brick Distillery was extremely honored to achieve this level of award given the level of competition. The competition included entries from Bacardi, Sazerac, E&J Gallo and Beam Suntory and other corporate giants.
Dented Brick's Antelope Island Rum was previously awarded a bronze medal at the American Craft Spirits Association peer reviewed competition. It has been reeview in Got Rum? magazine with a buy rating, and received a 91 from The Tasting Panel.
Spirits judging is based on a 100-point scale and by price categories yielding the fairest ratings. The Denver International Spirits Competition is conducted double blind by a seasoned panel of beverage professionals. The judging panel consists of sommeliers, retail buyers, journalists, mixologists and beverage directors. All judges undergo a daily calibration class designed to maintain consistent evaluation and scoring of all spirits.
Utah's newest distillery opened March 25, 2016, with its Antelope Island Rum. Named after one of Utah's most famous landmarks, the white rum is made with organic cane sugar, molasses and Utah spring water. The distillery's location, in an industrial area of South Salt Lake, was selected because there was a natural artesian well on the property. The fresh spring water "is something that sets us apart," said Ethan Miller, Dented Brick's Head Distiller. The company's state-of-the-art facility is one of the few in the country built specifically for distilling. With a 28-foot-tall Vendome copper still from Kentucky, Dented Brick will be able to increase its capacity in the future, eventually reaching 3,000 cases a month. "We can make any spirit we want: vodka, gin or whiskey," Miller said. Not everything about the 14,000-square-foot facility is new, though. Old bricks — even dented ones — were pulled from the site's original structure and incorporated into the building, giving inspiration for the distillery's name.
Cost • $26.96 for a 750-ml bottle.