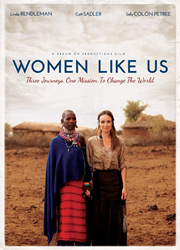 "There couldn't be a more perfect time for Women Like Us to debut! This film is one I think all women should watch as it is truly an inspiring and touching film." – Sherri Shepherd, ABC's "The View"
Los Angeles, CA (PRWEB) March 17, 2017
Women Like Us, is a call to action for women everywhere to join together, and use their innate skills of compassion, courage and communication to confront social injustices, promote equality and education for all humanity.
– Sally Colón-Petree, Director
"There couldn't be a more perfect time for Women Like Us to debut! This film is one I think all women should watch as it is truly an inspiring and touching film."
– Sherri Shepherd, ABC's "The View"
In perfect timing for Women's History Month, director and producer Sally Colón-Petree is premiering her highly awaited documentary WOMEN LIKE US - THREE JOURNEYS. ONE MISSION. TO CHANGE THE WORLD on Saturday, March 25th at the 13th Annual Los Angeles Women's International Film Festival held in downtown Los Angeles. The documentary, WOMEN LIKE US (WLU) is an uplifting and motivating film that speaks on and brings light to important issues and social injustices such as female genital mutilation, human trafficking, teen suicide, education and more. WLU follows director Sally Colón-Petree, award-winning journalist Catt Sadler and activist/author Linda Rendleman as they engage in conversation with over fourteen astounding women including Ida Odinga, former First Lady of Kenya; Caroline Barnett, co-founder of The Los Angeles Dream Center; Kim Dewitt, founder of the Olmalaika Home; Nancy Noel, Artist/Philanthropist, and more.
The emotionally powerful film aims to inspire and visually deliver a call to action to help make a difference in regards to the important issues mentioned in the film. Sally is also featured in the corresponding book "Women Like Us: Together Changing the World" written by Linda Rendleman and is quoted on the back cover: "I'm not going to wait for someone else to do it, I'm going to be the one who does it!"
Here is what people are currently saying about the film:
"I love that this documentary is using the media to ACKNOWLEDGE what women are doing, reminding us what we need to do..."
– Dianne Hudson, Executive Producer "Oprah Winfrey Show"
"The film is brave and bold and goes straight to the soul. When faced with life's challenges, it is easy to sometimes look away. Director Sally Colón-Petree brings you face-to-face with real painful moments. This film proves that there is hope even in the midst of hopelessness, if we would just pay attention and lend a hand."
– Tim Storey, Author and Life Coach
WOMEN LIKE US will be shown to audiences on Saturday, March 25th at 4:30 PM at LA Live Regal Cinemas and will be followed by a Q & A with the director of the film.
About Sally Colón-Petree / Director:
Sally Colón-Petree is a native of Chicago, but relocated to Los Angeles in 1996 to pursue her career in the entertainment industry after attending Oral Roberts University where she studied film & television production. A year after arriving in LA, Sally landed a role in the dark comedy "Eight Heads in A Duffel Bag", starring Joe Pesci & David Spade; followed by several guest starring roles on network television shows and National commercials, as well as landing a coveted spot on the cover of "Woman's World" magazine. In 2001, Sally signed a $1.3 million-dollar record deal as part of a Latin girl group managed by Suzanne DePasse, a Motown executive responsible for discovering the Jackson 5. Later, Sally decided to focus on creating family friendly programs, and moved into producing and hosting TV, which included traveling across the country to participate in press junkets for major motion picture companies. After 5 years of producing and hosting TV, Sally was awarded 2 Telly awards for her excellent artistry as a producer and TV host.
In 2004, Sally started Dream On Productions, a production company focused on creating family friendly TV programming, feature films, documentaries and music compositions. Her production offices are located in Valencia, CA. Sally is making her directorial debut in her latest project, "Women Like Us", an empowering, humanitarian documentary, set to premiere March 25th, 2017 and is an official selection at the 2017 Los Angeles Women's International Film Festival.
Sally currently sits on the board at The Los Angeles Dream Center (an urban outreach center in downtown LA).
About the Film Festival
The Los Angeles Women's International Film festival serves as a platform for women filmmakers worldwide to share their unique stories and cultural experiences with Los Angeles' diverse audience. The festival's programming also reflects Alliance of Women Filmmakers' mission to educate and inform audiences of social, political, and health issues impacting women globally.