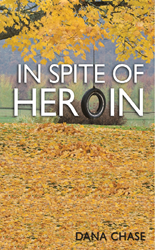 FARGO, N.D. (PRWEB) March 20, 2017
As a personal testimony to the global drug crisis, Dana Chase has recently published her memoir, "In Spite of Heroin." The book shares her family's journey with addiction, as well as the despair management strategies she used to cope with her sons' consequences.
The memoir details how Chase and her family returned to North Dakota in 1993, to offer their twin sons a better, easier life. Despite having raised her sons in a loving home centered on family values, her boys became drug dealers, heroin addicts, and convicted felons. All of this occurred before the boys turned twenty years old.
"We did our best," said Chase. "We raised them in a good home and a safe environment. I never thought this level of drug abuse could occur in my family or in North Dakota, but this is evidence that heroin is truly a global problem."
Statistics from the CDC show heroin abuse has skyrocketed. In 2002, 100 people per 100,000 were addicted to heroin but that number had doubled by 2013. Abuse has increased most drastically in the Midwest.
When Chase realized she could not save her sons from their addictions, she focused on self-care and managing her despair. Playing tennis, practicing Feng Shui, and connecting with Mother Nature were a few of many choices and influences that helped her.
"Ultimately, I was able to rise above wrenching heartache and save the only life I truly had the power to save—my own."
Chase hopes that "In Spite of Heroin" will encourage her readers to further explore intuition and destiny. "My memoir is an inspirational story that those who have been impacted by addiction will appreciate."
"In Spite of Heroin"
By Dana Chase
ISBN: 978-1-52462-802-4
Available at AuthorHouse, Amazon and Barnes & Noble
About the author
Dana Chase is certified in Life Coaching and Feng Shui, and has successfully mentored hundreds of clients seeking greater fulfillment. She has learned how to manage despair, embrace intuition, and fulfill destiny. She is an avid tennis player and member of TAM, The Addict's Mom.
To learn more about the author, please visit her website and Facebook.
###
Contact:
LAVIDGE – Phoenix
Kalin Batts
480-998-2600 x 524
kbatts(at)lavidge.com