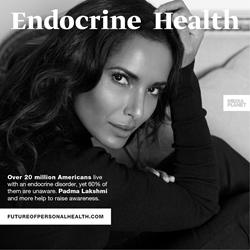 Lakshmi shares her inspirational story of how she lived under diagnosed for years with endometriosis before having her miracle baby
New York, NY (PRWEB) March 17, 2017
Mediaplanet today announces distribution of its first cross-platform edition of "Endocrine Health Awareness," aiming to share information on the body's most important function while also sparking conversation on a vastly under discussed topic.
The print component of "Endocrine Health Awareness" is distributed within USA Today with a circulation of approximately 250,000 and an estimated readership of 750,000 in the markets of NY, LA, Dallas, South Florida, and New Orleans. The digital component is distributed nationally, through a vast social media strategy, and across a network of top news sites and partner outlets. To explore the digital version of the campaign, go to Mediaplanet's Future of Healthcare website.
TV personality, author, and advocate Padma Lakshimi graces the cover of the print publication. Inside, Lakshimi shares her inspirational story of how she lived under diagnosed for years with endometriosis before having her miracle baby. Additionally, author and advocate Gessie Thompson shares her struggle with fibroids, surgery, and IVF before conceiving her daughter.
This campaign was made possible with the support of the Endocrine Society, Latham Centers, SeroVital, The Center for Innovative Gyn Care, Dr. Seckin, the Endometriosis Foundation of America, American Association of Diabetic Educators, Ascencia, Interpace Diagnostics, Radius Health, Cushing's Support and Research Foundation Gessie Thompson, Endoceutics, the Obesity Society, and more!
About Mediaplanet
Mediaplanet is the leading independent publisher of content marketing campaigns covering a variety of topics and industries such as Health, Education, Lifestyle, Business and Technology and Corporate Social Responsibility. We turn consumer interest into action by providing readers with motivational editorial, pairing it with relevant advertisers and distributing it within top newspapers and online platforms around the world. Please visit http://www.mediaplanet.com for more on who we are and what we do.
Press Contact
Jordan Hernandez
Jordan.hernandez(at)mediaplanet(dot)com
646-755-7956