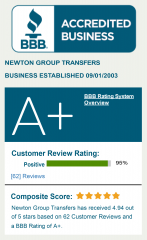 Every timeshare is different, but we offer real protections for timeshare owners by assuming liability for all fees related to the timeshare throughout the duration of the transfer.
Gilbert, AZ (PRWEB) March 21, 2017
Newton Group Transfers ― a timeshare transfer company with offices headquartered in Gilbert, Arizona ― is celebrating over 13 years as a trusted and reliable source for those owners who are looking to transition from their ownership. Providing services directly to timeshare owners seeking a trusted removal service is something that had previously been lacking in the industry, and Newton Group Transfers has gone above and beyond to answer that call throughout their distinguished history.
Given the nature of the timeshare exit industry, many companies have come and gone because they don't have their clients' best interests at heart. In one common scenario, these companies conduct business under several different names so that they can quickly abort these monikers once their reputation sours. When this occurs, owners who have entered into a relationship with these companies are left out in the cold with no way to recoup the money they have already invested trying to exit their property. Not only that, but they're still in the same spot they were when they started: paying fees for a timeshare they don't use, don't want, can't afford, or some combination of the three.
Conversely, Newton Group Transfers refuses to hide behind fraudulent naming techniques or other backhanded tactics. Instead, they have persevered on behalf of their clients these 13 years by doing great work, engaging in open and honest conversations with their clients, and providing financial security that other companies simply don't match. Says Gordon Newton, President of Newton Group Transfers, "The timeshare industry is notoriously rife with scam artists, so we do our best to create trusting relationships with our clients through honesty and transparency. Every timeshare is different, but we offer real protections for timeshare owners by assuming liability for all fees related to the timeshare throughout the duration of the transfer."
There have been many documented instances of timeshare exit companies that would rather suffer through the occasional poor review or dissatisfied customer than commit to covering costs and preserving their core values, but Newton Group Transfers is willing to do whatever is necessary to ensure the complete satisfaction of each customer. Because of this, they have accrued a phenomenal track record that has made them the most trusted name in timeshare exit. "Sadly, many of our clients have come to us having been burned in the past, which is unfortunate. But we do whatever we can to correct the situation and transfer the property out of their name permanently."
Throughout their history, Newton Group Transfers has earned an A+ rating with the Better Business Bureau with a composite star ranking of 4.94 out of a possible 5. They also have a 95% positive customer review rating, which is an astonishing figure for a company to maintain over the course of 13 years within this industry. And for potential customers who are apprehensive about entering into business with a timeshare transfer company, Newton Group Transfers has long set the standard with their 100% Money Back Guarantee ― not only do they promise to fully repay their customers' investment if they are unable to remove them from their timeshares contracts, but they also assume responsibility for all fees related to the property that come due throughout the duration of the transfer process. This decreases risk and inspires consumer confidence.
Removing timeshare owners from their contracts can be a difficult task, but the staff at Newton Group Transfers are proud to have helped thousands of families become timeshare free throughout their history. Because of this commitment to transparency and financial responsibility, Newton Group Transfers has become the most trusted name in timeshare exit.
The timeshare exit industry is a delicate one with plenty of pitfalls and unscrupulous companies, which makes Newton Group Transfers' 13 years of success all the more impressive. It is their commitment to their customers that has kept them at the top for so long, and as they continue to abide by the founding principles and core values that they established in 2003, they look forward to many more successful years to come.
Interested timeshare owners are invited to contact Newton Group Transfers today to better understand the transfer process and how Newton Group Transfers exceeds expectations and delivers permanent results, providing financial security with every contract.