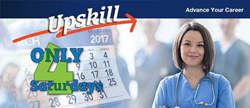 We believe that if you are currently working as a medical assistant, NCMA certification is very likely to become required or at least a requirement for advancement - Dr. Kimberly Rassau
Pittsburgh, PA (PRWEB) March 19, 2017
Career Training Academy (CTA) has announced plans to become a regional center for Medical Assistant Certification Review courses (NCMA). The NCMA prepares medical assistants to take The National Certified Medical Assistant test through the National Center for Competency Testing (NCCT).
The course is 20 hours and offered over four consecutive Saturdays and 2017 sessions are scheduled to begin on March 18, August 8 or October 7. The NCMA Test Prep course is offered for a complete fee of $250 and covers general field knowledge, study skills, clinical and administrative knowledge. All courses are offered at CTA's Lower Burrell Campus located at 179 Hillcrest Shopping Center.
"We believe that if you are currently working as a medical assistant, NCMA certification is very likely to become required or at least a requirement for advancement," said Dr. Kimberly Rassau, President and CEO of Career Training Academy. "The opportunity to 'upskill' is an important part of our Training for a Lifetime for our graduates, and in this case, extends to the benefit of all health care professionals in the region who can increase their earning potential and fill positions in high demand with certification." Dr. Rassau said that CTA can work with area hospitals and healthcare facilities to build customized, on-site test prep courses to assist those medical facilities requiring certification for their current Medical Assistants on staff.
As recently reported by US News & World Reports 2017 Top Jobs, the health care support field is predicted to be one of the fastest-growing job segments in the next decade, according to the BLS, with a 23 percent increase, or about 974,000 new jobs.
Unlike most current certification review courses that focus on self-study with a study guide, this course meets face-to-face and provides hands-on activities and practice.
The faculty who teach the review course are able to engage participants and answer questions as they arise. They provide individual feedback and guidance to participants throughout the review course.
The course has been developed to align with the NCMA and includes additional content on time management and test-taking skills that will assist student in taking the certification test.
For information about Career Training Academy's hands-on test prep for the NCMA, visit https://careerta.edu/NCMA/ and healthcare partners should contact contact, Dr. Kimberly Rassau, krassau(at)careerta(dot)edu, 724-337-1000 x1115.
About Career Training Academy
Founded in 1972, Career Training Academy offers professional career training and advancement in the medical, dental and massage therapy fields. Career Training Academy's main campus is located in Lower Burrell, PA with additional campuses in Monroeville and West View. The mission of Career Training Academy is to provide an educational environment that enhances learning and personal enrichment with unique and traditional methods, new techniques to learning, and a curriculum designed to meet career goals and industry needs. CTA maintains an active student community service program to foster character and self-esteem and is dedicated to the education and advancement of each individual's career goals. CTA is accredited by the Accrediting Commission of Career Schools and Colleges (ACCSC) and licensed by the State Board of Private Licensed Schools, Pennsylvania Department of Education.